The 3 Most Compatible Matches For Life Path 3s
The creator needs someone who'll keep them going.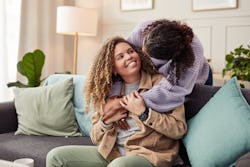 LumiNola/E+/Getty Images
Your Co-star compatibility charts aren't the only way you can inconspicuously test the waters with someone. Numerology can be used to indicate how well you mesh with others by calculating your life path number. Just like your birth chart, your numerological chart gives you the scoop into your strengths, ambitions, and motivations, which are all important things when considering a sustainable relationship with someone. If you fall into the territory of creative and chatty life path 3, you're a creator at heart who's stimulated by intelligence and meaningful conversation — so you would thrive best in relationships with someone who's a mindful communicator and who can give you the independence needed to lead an artistic life.
As a life path 3, you're more than just a social butterfly — you're the events organizer of the friend group. It's important to you that you can express yourself through words and stay mentally stimulated. You're an artist in many forms, so you need ample independence to chase your creative pursuits.
"You're the one spearheading the group chat, reading five different books at once, and always sharing funny jokes with anyone that will listen!" Erin River Sunday, consulting astrologer for Birthdate Co., tells Bustle. And your words have a major influence on others. "It's important for life path 3 people to figure out what it is they really want to say because when they speak, people listen," adds Sunday.
Between your talkative tendencies and love for crafts, you work best partnered with someone who knows that listening is just as important when you're communicating, but you also appreciate a person who can give you room to create.
Ready to uncover the most magnetic numerological matches? Keep reading for the life path numbers most compatible with life path 3 in numerology.