3 Ways To Manifest Good Vibes During March's Full Worm Moon
Close out the winter season on a high note.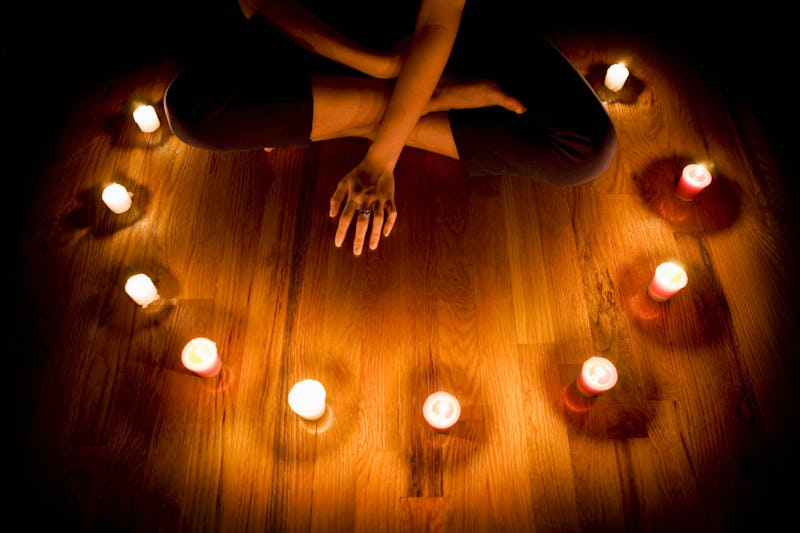 Scott Kleinman/Photodisc/Getty Images
The spring equinox is still a few weeks away, but you might want to get a jump on your spring cleaning a little early this year — specifically after March's full Worm moon arrives on March 7 at 7:42 a.m. ET. As la luna enters Virgo, there's no better time to embrace the qualities of the ultra-organized sign and get rid of everything that no longer serves you. But if you want good karma, you'll have to do more than through away those old jeans you forgot you had. To fully harness the power of the lunar event, make sure to try these March 2023 full moon manifestations.
As the last full moon of the winter season, it was initially believed that the March full Worm moon gets its name from the earthworms that come out of the ground at the first signs of spring, per the Farmer's Almanac. In actuality, the name refers to a specific kind of worm that arose from thawing tree bark and other winter hideouts at this time. The lunar event was given its name by the Naudowessie and other Indigenous tribes.
As astrologer Rose Theodora previously told Bustle, full moons are known for raising tensions and intensifying emotions, but these emotional releases are nothing to be afraid of. "The full moon often reveals a turning point or a realization surrounding how far we've come," says Theodora. "It's a heightened emotional time due to the two light bodies flanking the earth, which can feel like we are being pulled in two different directions: feeling emotionally receptive and where we feel the need be."
Full moons are always a time of release and completing cycles, and the March full Worm moon is no exception. To help close out the winter season on a high note, here are a few March full Worm moon manifestation ideas to practice, according to occult artist Julia Popescu.
March Full Worm Moon Manifestation Ideas
Prepare A Spring Altar
Spring is most definitely in the air for this lunar event. Not only is this the final full moon of winter, but la luna will be entering Virgo, which is personified by Persephone, the Greek goddess of spring. To help usher in the new season, Popescu recommends preparing a spring altar to honor Persephone that includes spring florals, pomegranate, crystals like amethyst that are connected to Virgo, and anything else that reminds you of nature. Popescu also suggests doing this ritual in nature, if possible.
Light A Candle & Recharge
You should always prioritize recharging and practicing gratitude during a full moon, and lighting a candle is a simple and easy way to do so. It's especially smart to do this during the Worm moon during Pisces season, because candle magick is Pisces' power. To fully submerge yourself into your inner world, Popescu recommends lighting a candle and leaning into your gratitude by "meditating to the sound of waves crashing by the sea," or "visualizing yourself giving over to the great watery expanse any emotions."
Practice Shadow Work
Shadow work is a type of therapy that helps to uncover how you view the world, your triggers, and things you may have repressed as a child. Though embarking on a shadow work journey might seem like a scary endeavor, Popescu believes it's a great way to fight the self-criticism that may be plaguing you during the Worm moon. "Self-criticism is often connected to fear — fear of looking silly, fear of failing, fear of rejection. Try to go to a deep place and stream-of-consciously write out your greatest fears," suggests Popescu. You can do this by your spring altar, in a bath, or anywhere you feel protected.
When you've finished, it's time to let go of the fears holding you back. "To truly send the emotional message home, burn the list and toss the ashes in the toilet, ritually releasing your fears, explains Popescu. "Full moons are about endings and you are putting an end to your self-judgements. It is done."
Source:
Julia Popescu, artist and founder of Snakes for Hair Candle Co.