On TikTok, Miles Teller Is The Latest It Boy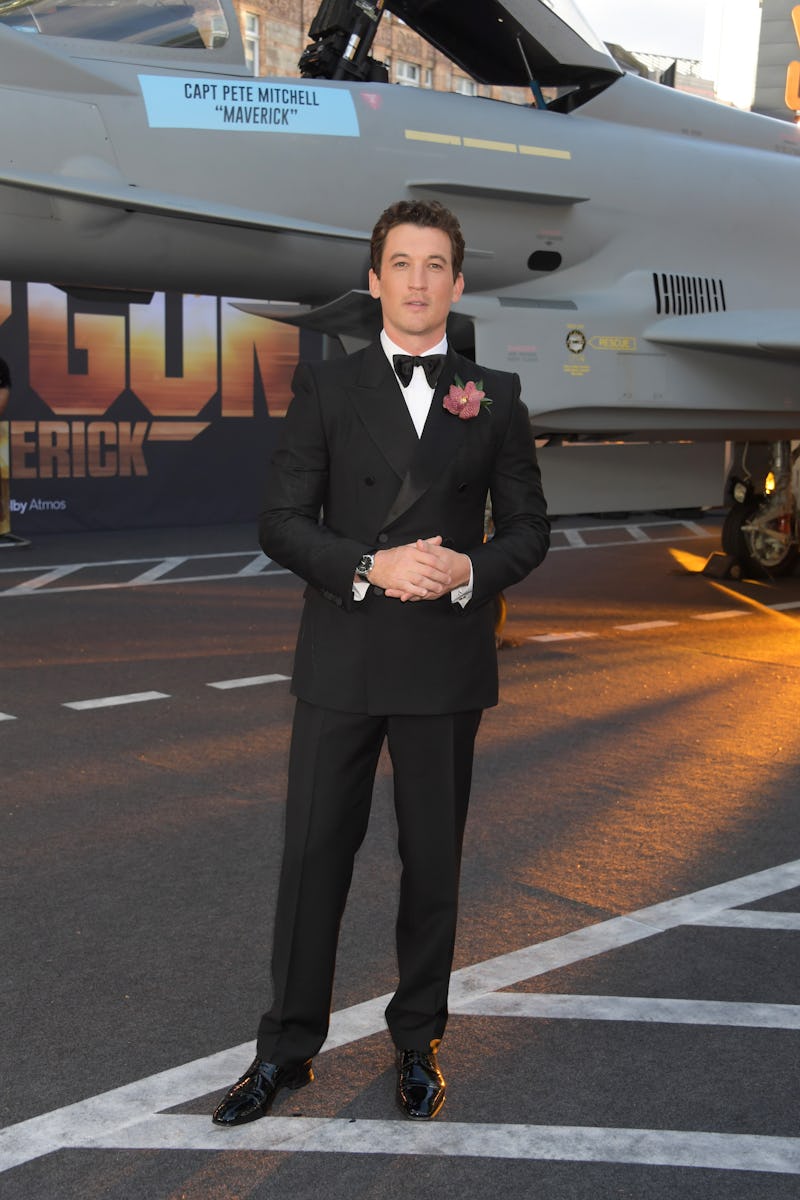 David M. Benett/WireImage/Getty Images
What started as a Top Gun: Maverick thirst trap gone viral following the May 27 release of the movie, has turned into a Miles Teller TikTok takeover, known to fans as #TellerTok. The Top Gun franchise has served audiences with the *eh-hem* content they so desire; including slow-motion, shirtless running on the beach and a charm only main characters with perfectly groomed mustaches could have. After the release of the sequel, fans quickly became obsessed with one character; Bradley "Rooster" Bradshaw played by Miles Teller. If you've been on TikTok in the last month, you've definitely seen #TellerTok.
Fans were quick to take their obsession to TikTok following the release of Top Gun: Maverick— posting clips of the movie, reactions to the beach scene (you know which one I'm talking about), and even shaving their beards to display their own version of the "Top Gun 'stache." However, one thing stood out from this Top Gun TikTok content — it seemed to have reignited the internet's love for Miles Teller — an actor who has stolen the hearts of fans before in films like The Spectacular Now, Footloose, and Two Night Stand. The hashtag #TellerTok quickly evolved and now has over 29.6 million views.
#TellerTok is the side of TikTok that features Miles Teller content covering all corners of his career, on and off the screen — from videos of a younger, less navy-trained Teller dancing in the 2011 remake of Footloose, to breakup audios from Teller's character in the 2014 film Whiplash to the Top Gun: Maverick beach scene featuring a sun-kissed Teller the platform can't stop thirsting over. #TellerTok is so much more than just one video from Maverick. It's an entire TikTok community, giving fans a safe space to collectively freak out over how fine this man is. This man can "Take My Breath Away" any day of the week.
Long-term residents of #TellerTok encourage new Teller fans to appreciate the actor at every stage of his life, which creates an even bigger appreciation for the fighter pilot character audiences know and love. TikTokers have come out of the woodwork to post hidden or uncovered videos or photos of the man himself — featuring Teller in his natural element, even if that natural element is him singing on stage with Keith Urban in 2016.
#TellerTok has also allowed fans to put the Teller spin on pre-existing TikTok trends — acknowledging how much press this movie has gained just from Teller fans sharing their love for the actor and his many characters.
The #TellerTok invasion became so popular that it even caught the attention of the actor's wife, Keleigh Teller. Once word of #TellerTok took over millions of For You Pages, Keleigh had to take part in the obsession — providing #TellerTok with behind-the-scenes content of her husband's everyday life. The couple have been together since 2013 and got married in September of 2019. Couple goals, am I right? When Keleigh's videos found their way to the For You Page, fans were infatuated with her subtle reminders that she's the one married to the man most of the world is longing for.
Keleigh has since started dominating #TellerTok, with her first video featuring the hashtag gaining 5.6 million views — proving that she's just as obsessed with Teller as we are. She actually began encouraging fans to lust along with her, stating in a TikTok caption, "we're all team Rooster here, thirst on…" I mean if she approves, don't mind if I do.
It's obvious that Teller fans love his wife, with one TikTok commenter saying, "I love that she's just feeding into everyone's obsession." She even began asking her TikTok followers if they had any requests for Teller content — replying to a comment to see some of their wedding photos and videos, which she promptly supplied. Whether she's making fan edits of her husband, starting TikTok trends, or promoting Top Gun: Maverick, Keleigh has proved that she's Teller's number one supporter. Fans are now equally in love with her and begging her for more "Keleigh content."
The man himself, Miles Teller, has seen the videos and thankfully, he loves them. In a June 13 interview with Entertainment Tonight, Teller shared that even though he doesn't have TikTok or Instagram, he often sees his wife scrolling and laughing, eventually sharing the TikTok frenzy with him. "It's great. If it brings people into the theater or gets some new fans maybe for me, that's all good," Teller told Entertainment Tonight. It's safe to say he's gained more than a few new fans.
Fans better make sure their TikToks are primed and ready to create more iconic fan edits because Teller is slated to be starring in Netflix's Spiderhead with Chris Hemsworth, which will be available for streaming on June 17. I'm keeping my fingers crossed for more slow-motion football games on the beach.