11 Podcasts About The History Of Juneteenth
There's so much to learn.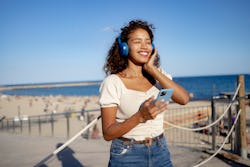 Ivan Pantic/E+/Getty Images
Juneteenth has been celebrated for over 150 years, but the day only became a federal holiday in 2021. Also known as Jubilee Day, Emancipation Day, Freedom Day, and Black Independence Day, Juneteenth recognizes the day that federal troops arrived in Galveston, Texas, to enforce the Emancipation Proclamation and ensure that Texas freed enslaved Black Americans. As Americans honor Juneteenth this year, one way to celebrate is to learn more about the history of the holiday. If you're looking to better understand Juneteenth, there are plenty of podcasts about Juneteenth out there discussing everything from little-known facts about the day, to Juneteenth cookbooks, and more.
Though the Emancipation Proclamation took effect in 1863, it wasn't until June 19, 1865, that Union troops arrived in Texas, making it one of the final states to recognize the Emancipation Proclamation, according to PBS. The following year, groups of Black Americans gathered across Texas to honor the day upon which they were officially emancipated. In the decades following, the holiday became known across the south and, eventually, across the entire nation until finally being recognized as a federal holiday in 2021.
Here are some of the best podcasts series and episodes to learn more about Juneteenth.
On this episode of the pop culture podcast For Colored Nerds, the series interviews Nicole Taylor about her cookbook, Watermelon and Red Birds: A Cookbook for Juneteenth and Black Celebrations. Taylor offers a unique perspective on the significance of food in Black celebrations, her own unique approach to classic recipes, and the history of Juneteenth.
On this episode of the early American history podcast Ben Franklin's World, Annette Gordon-Reed, a Harvard historian and author of On Juneteenth, joins to discuss the history of the holiday. As a native Texan, Gordon-Reed also offers a special perspective on her own connection to the celebration.
In this episode of Beyond Black History, host Femi Redwood speaks with descendants of some of the enslaved people freed on Juneteenth. One of the ancestors she places a special focus on is Jack Yates, who played a major role in building the Black community know as Freedmen's Town.
NPR's Code Switch discusses how race intersects with our society and daily lives. In its Juneteenth episode, Code Switch focuses on the role food plays in Juneteenth celebrations. Hosts Gene Demby and Karen Grigsby Bates look back at the history the holiday in order to look ahead to the future. The episode also poses the question of whether the growing attention around Juneteenth will result in commercialization of the holiday.
In this episode of Shaakira White's series Black History Moments, White reflects on the history of Juneteenth with a special focused on overlooked details of the holiday — including President Abraham Lincoln's own racist ideologies and the continued oppression of Black Americans after emancipation.
6. Food with Mark Bittman: "Juneteenth"
On this episode of The New York Times series, journalist Kayla Stewart chats with chef Adrienne Cheatham and food journalist Stephen Satterfield about their personal links to Juneteenth and its food traditions. They discuss how the holiday entered their lives — whether they grew up celebrating it or learned about it later in life; how they developed their own relationship with the holiday and its traditions; and how to ensure that the holiday's culture and spirit is not co-opted.
Dr. Ibram X. Kendi, author of How to Be an Antiracist, hosts the ongoing podcast series Be an Antiracist. On this episode, "The Juneteenth Mixtape," Dr. Kendi reflects on what the holiday means to him and invites notable speakers like Gordon-Reed — and even passersby on the streets of New York — to offer their perspectives.
This 2020 episode of The New York Times's The Daily casts a special focus on Juneteenth's significance to the Black liberation movement, featuring University of Texas at Austin history professor Dr. Daina Ramey Berry. The episode also links to two stories for complementary reading: the interactive story, "How We Juneteenth," and a feature on Opal Lee, the Texas activist who worked for years to make Juneteenth a national holiday.
In this episode of NPR's classical music series From the Top, guest co-host Kevin Olusola highlights various young Black musicians in honor of the holiday. The special intertwines performances with artist interviews.
If you're a fan of Vox's explanatory journalism series, Today, Explained, then its 2018 Juneteenth episode might be a great resource for learning more about the holiday. The episode features Brenda Stevenson, UCLA History & African American Studies professor, who unpacks the history of the holiday, its first celebrations, and why it should be celebrated by everyone, not just Black Americans.
Hosted by Priya Parker, a conflict mediator, Together Apart is a New York Times series created in 2020 to focus on the resiliency of community. In this episode, Parker reflects on how Juneteenth can act as a more unifying Independence Day for Americans.