25 Quotes About Love To Share During Pride Month 2022
"Love is a human experience."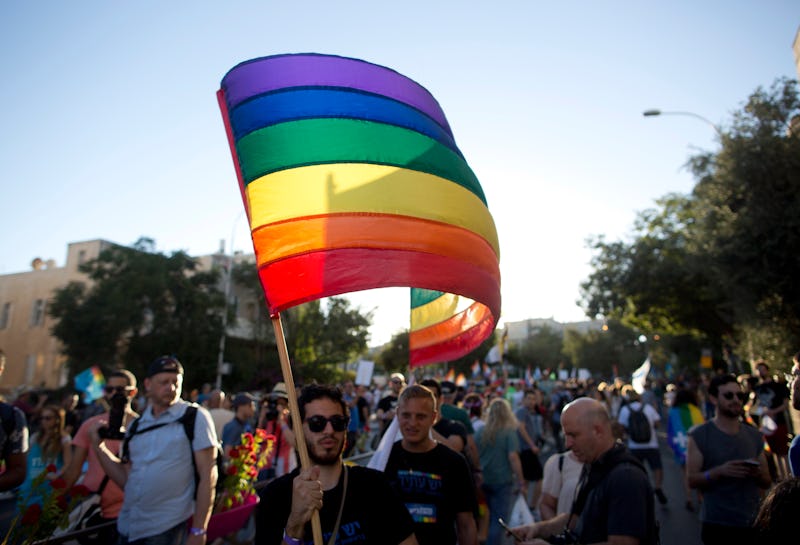 Lior Mizrahi/Getty Images News/Getty Images
June is a magical month. Summer emerges in full force, sweeping away the last dreary remnants of winter, swimsuits and sandals are freed from the confines of storage bins, and on June 22, our Empress and Supreme Leader, Meryl Streep, celebrates her birthday. But best of all, June is Pride Month — so to honor the occasion, here are 20 quotes about love to share during Pride Month to remind us of the liberation that comes with loving who you love.
Pride Month takes place in June to honor the 1969 Stonewall riots, a series of demonstrations by LGBTQ+ communities to protest police raids on the Stonewall Inn, a gay bar in New York's Greenwich Village. The riots were spontaneous, an explosion of all the hurt, anger, and frustration that had been building within the heavily persecuted gay community. The power and violence of the demonstrations, and the police response to them, sparked the formation of many gay rights groups, and marked the beginning of the modern gay rights movement. While the LGBTQ+ Movement has made huge leaps forward since Stonewall, there is still progress to be made.
So be fierce about your love; not just this month but every month. Fight for it. Let it burn bright and spread like wildfire, stoke its flames, and warm yourself by its heat. Love in the name of those who fought for your rights, who demonstrated at Stonewall, who brought LGBTQ+ rights to the Supreme Court and won. Love for those who were forced to suppress their love, for those who suffered and died for it. Love for them, love for yourself, love for your family and friends. Love because love will always prevail.
This article was originally published on