Domestic Abuse Victims Are More Likely To Attempt Suicide, Finds New Study
"It's shameful that the clear link has not previously been recognised as the public health crisis that it is."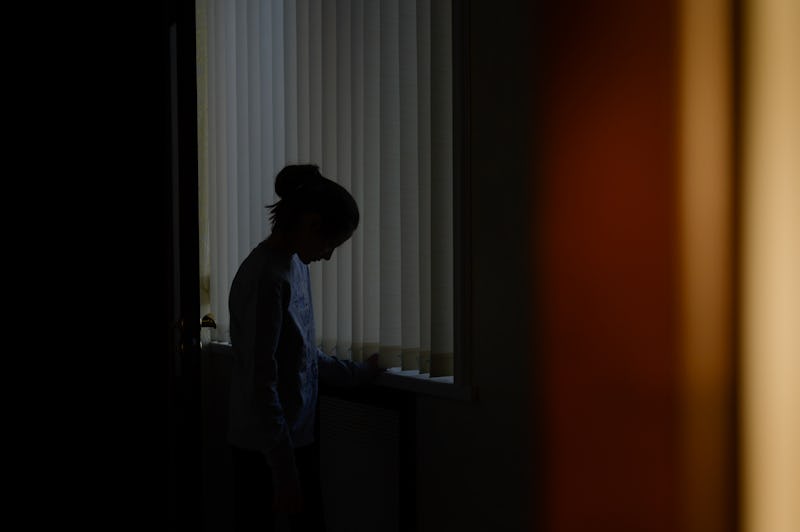 Shutterstock
Trigger warning: This post contains mentions of abuse and suicide
Research findings from Agenda Alliance have now revealed that women who suffer domestic abuse are three times more likely to attempt to take their own life, with this statistic rocketing to seven times more likely for those who have experienced sexual abuse within a relationship. The findings also indicated that "intersecting identities and experiences associated with systemic disadvantages, including poverty, disability, and ethnicity, exacerbate risks of both suicidality and intimate partner violence (IPV)."
This research is the first of its kind in the UK to establish a connection between domestic abuse and suicidal thoughts and/or attempts. Speaking about the findings, Jess Southgate, Deputy CEO of Agenda Alliance, said: "It is shameful that the clear link between domestic abuse and suicidal feelings amongst women has not previously been recognised as the public health crisis that it is."
She continued: "We at Agenda Alliance know that the most marginalised women are often those most at risk. Yet time and again their needs and experiences are overlooked. In the ongoing cost of living crisis it is essential that women are not left trapped in abusive situations. All public service professionals must be trained to ask if women are safe, and to support them to get the help they need."
This new research also includes a number of Agenda Alliance's recommendations, which are:
All public authorities must ensure their staff are trained to understand the links between domestic abuse and suicide.
A statutory duty on people's safety should be placed on professionals working across public services, including health, justice, education, and welfare.
Changes to Universal Credit and how it's paid in order to give women opportunities to leave their abuser.
Police forces must include any history of domestic abuse when it comes to the recording of suicides and unexplained deaths.
The Government should provide sufficient and long-term funding for domestic abuse charities and services.
The cost of living crisis has had a significant effect on domestic abuse survivors and their ability to leave their abusers, forcing many women to stay in these abusive environments due to a lack of other options. In fact, in November 2022, one of the leading domestic violence charities Refuge released findings of a survey looking into the effects of the cost of living crisis on survivors. The charity surveyed its front line staff and found that 77% said that "survivors are facing finding it harder to leave abusers, forcing women to choose between remaining with their abusive partner or risking destitution." And more than 50% of staff surveyed said that the cost of living is leading domestic abuse survivors to go back to their abusers.
The CEO of Refuge, Ruth Davison, said: "This crisis is urgent. Refuge is warning, loud and clear, that survivors of domestic abuse are being forced to remain with their abusers. This puts their lives at risk." Explaining that Refuge's frontline staff have encountered many stories such as this, Davison pointed out that a "lack of access to money can be a significant barrier to a woman's ability to flee their abuser or seek specialist support."
If you have been affected by any of the issues raised in this story, you can call Refuge's 24-hour helpline on 0808 2000 247 or visit the website here.