The 6 Best Fans For Large Rooms, According To Reviewers
We only recommend products we love and that we think you will, too. We may receive a portion of sales from products purchased from this article, which was written by our Commerce team.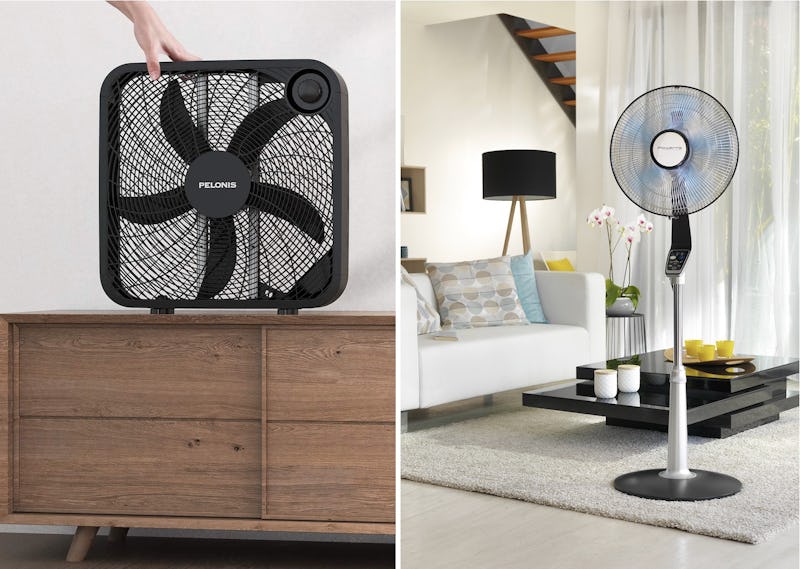 Bustle / Amazon
If you have a big space that always feels too warm, you'll want to utilize the best fans for large rooms to help cool it down to a comfortable temperature. Top picks will be powerful enough that you can feel the breeze throughout the large space — Amazon reviews can be a wealth of knowledge about this, so read the comments carefully to determine whether or not the pick will work in your room. The best fans will also come in a fan type that's ideal for the space. And they will boast features that you find particularly useful, such as a remote control, oscillation, or a range of cooling settings, among others.
How To Choose A Fan For A Large Room
The first thing you'll want to consider is the layout of your room and where exactly you plan to put it — these factors may determine the type of fan that would be most convenient for your given space.
A popular and versatile option, table fans have a sturdy base to ensure they stay upright, and they're portable due to their fairly compact size. Despite their name, table fans are usually suitable for use on both tabletops as well as the floor. Sometimes they can even be mounted on a wall, should that be convenient for you.
With their tall, narrow shape, tower fans are ideal if you have minimal floor space for a fan but still want something that's powerful. Tower fans usually have an oscillate setting to blow air throughout the room.
While pedestal fans take up more floor space than tower fans, the big benefit is that the fan's height can usually be adjusted to meet your exact needs. Pedestal fans typically boast the ability to oscillate, spreading cool air around your large space.
Often the most budget-friendly buy, box fans are designed primarily for use on the floor (though some can be placed on another flat surface or in a window). And while they are often larger in size — usually around 20 by 20 inches — they're typically super lightweight, so you can easily relocate them around as desired.
If you have pets or children, a bladeless fans are a safer choice overall. These picks tend to operate super quiet, and they require minimal cleaning since no dust can collect on the blades.
Other Features To Consider
Once you decide on the type of fan is most suitable for your space, you'll want to narrow down all of the remaining options by looking closely at each pick's features. Some helpful ones to be on the lookout for include:
Multiple speed settings: Simply put, the more speed settings a fan offers, the more control you'll have over how much air it blows.
Oscillation: When you want to feel cool air from different vantage points in a room, a fan with a setting that automatically pivots the head can be helpful.
Remote control: Most fans have control settings directly on them, but picks with a remote control can be operated from a distance for your convenience.
Timer: Do you want your fan to turn off on its own after a certain amount of time? Look for a pick with a handy timer feature.
Shop The Best Fans For Large Rooms
In a hurry? Here are the best fans for large rooms:
These six fans are the top picks for large rooms — they're amazingly powerful and packed with helpful features.
This article was originally published on