The 5 Best Mops For Hardwood Floors
We only recommend products we love and that we think you will, too. We may receive a portion of sales from products purchased from this article, which was written by our Commerce team.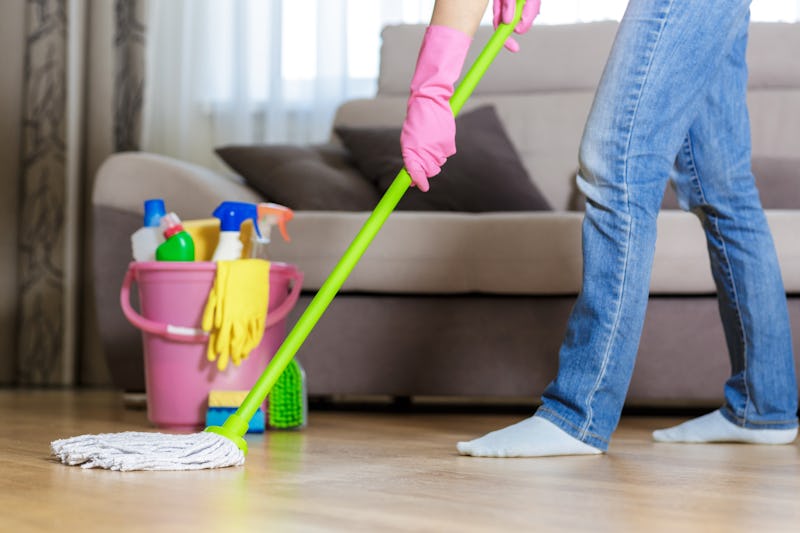 Evgenyrychko / Shutterstock
If you have ever installed, treated, repaired, or sealed hardwood floors in your home, you know how expensive it can get. The last thing you want to do is ruin your expensive wood floors with an inferior cleaning product. The best mops for hardwood floors will clean your floors without risk of damaging them in the process — and some models even work double duty cleaning other surfaces.
But what is the best type of mop for hardwood floors? There are a few good options for cleaning hardwood floors, but a microfiber mop is probably your best bet. "When it comes to hardwood floors, the key to selecting the right mop is water management," Melissa Homer, chief cleaning officer at MaidPro, tells Bustle. "Wood floors cannot handle excessive water for extended periods of time, as small scratches and gaps in the floor boards will eventually allow water to absorb in past the polyurethane finish to cause damage. For this reason, mops that absorb well and don't require a ton of water to clean are your safest bet. Professionals rely on microfiber flat mops to clean hardwood floors and laminate floors because the microfiber lifts and holds onto dirt and water so much better than cotton that you can use a lot less water to mop the floor and still get a brilliant shine."
The shape of the microfiber is the secret to why it's so effective: Microfiber mops work like a squeegee that picks up dirt and other messes and holds onto it instead of dragging it around. That being said, if you have the money to invest in a mop, there are higher tech electric mops that take the arm work out of lifting dirt and grime and can leave your floors looking polished.
It should also be noted that the cleaning agent you use while mopping hardwood floors is equally important, and it's best to stay away from harsh chemicals and choose more natural cleaning methods. Wood floors should be damp-mopped only — it's important to avoid saturating the floor with excess water. As far as cleaning agents go, make sure you read labels carefully and only select cleaners that are made for sealed wood. When in doubt, a little white vinegar diluted in water works like a charm.
These five hardwood floor mops will take some of the stress out of cleaning and protecting your flooring.
Experts:
Melissa Homer, chief cleaning officer at MaidPro.
This article was originally published on