The 8 Best Firm Mattress Toppers
We only recommend products we love and that we think you will, too. We may receive a portion of sales from products purchased from this article, which was written by our Commerce team.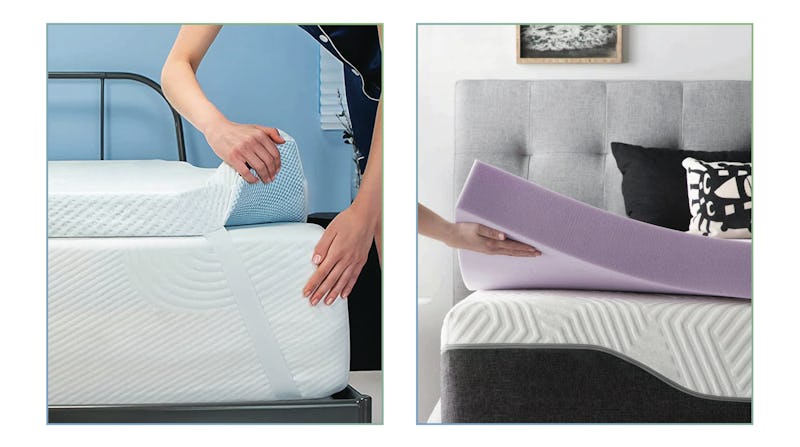 Bustle/Amazon
When looking for one of the best firm mattress toppers, you'll find a variety of materials can work to make your bed firmer. Mattress toppers made of materials including memory foam and latex can both make a soft mattress more supportive — if you know what to look for. So, what kind of mattress topper is firmest?
It's true you can find firm mattress toppers in any material, but after looking at the options out there, the firmest ones tend to be made of latex. When shopping for latex mattress toppers, pay attention to the indentation load deflection (ILD) which is the measure of the density. The lower the ILD number on your latex mattress topper, say 12, the less firm your topper will be. A topper that ranges between 40 and 50 ILD is considered to be super firm and amazing for your back.
If you prefer memory foam, look for a topper with a density of between 3 and 5 pounds per cubic inch. This will ensure your topper is dense and firm, so you don't sink too much into it. The height of your topper largely comes down to your personal preference. There's some reason to suggest that thicker mattress toppers might offer more support, but consider your own needs first. Thicker mattress toppers often mean you'll need deep-pocket sheets, and since some 4- or 5-inch mattress toppers are made of a combination of a few inches memory foam and a few inches of a different material, the density matters more than height.
In a hurry? These are the best firm mattress toppers:
1. An Extra-Firm Organic Latex Memory Topper: Pure Green 100% Natural Latex Mattress Topper
2. This Affordable Medium-Firm Latex Mattress Topper: NESAILA 3 Inch Mattress Topper
3. An Organic Latex Mattress Topper With Height Options: Take Ten Organic 100% Natural Latex Mattress Topper
4. A Memory Foam Topper With Cooling Gel: ViscoSoft 3-Inch Gel Memory Foam Mattress Topper
5. A Pricier, But Firmer Memory Foam Pick: Memory Foam Solutions Visco Elastic Mattress Topper
6. An Affordable Memory Foam Topper For Less Than $115: subrtex 2-Inch Gel-Infused Memory Foam Mattress Topper
7. A Copper And Memory Foam Mattress Topper: Maxzzz 2 Inch Mattress Topper
8. This Unique Lavender-Infused Mattress Topper: LUCID 4 Inch Lavender Infused Memory Foam Mattress Topper
This list of firm mattress toppers includes options for sweaty sleepers, budget-conscious shoppers, and anyone who prefers a really (really) firm bed topper. Snag one and sleep better.
And if you're interested, here are our picks for the best firm mattresses, and our guide for how to make your mattress firmer.
This article was originally published on