The 9 Best Mosquito Repellents For Patios
We only recommend products we love and that we think you will, too. We may receive a portion of sales from products purchased from this article, which was written by our Commerce team.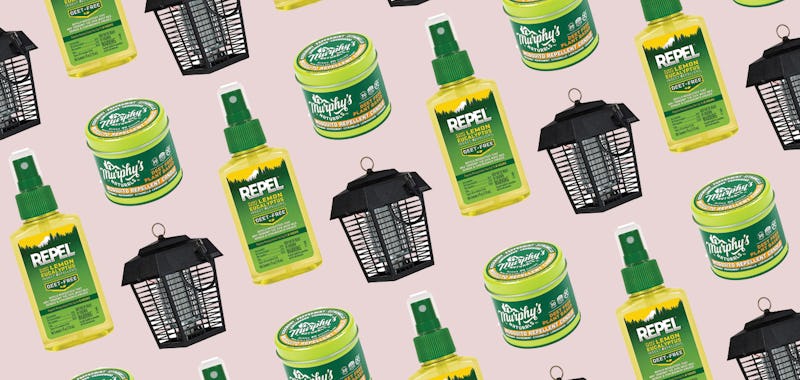 Amazon/Bustle
During the warm weather, there's nothing worse than swollen, painful bug bites that force you back indoors. Luckily, the best mosquito repellents for patios can save your skin and your patio party — just make sure to consider whether you want the entire space to repel mosquitos or just each individual person. Also think about what kinds of mosquitos repellents you're comfortable using. Are pesticides okay, or would you prefer to use a non-DEET repellent? Would your ideal method kill the mosquitos, or simply discourage them from getting too close?
Before you buy, you'll want to consider the size of the area you're dealing with. If you have a yard or patio that covers a lot of ground, you may want to invest in a long-range repellent spray that can prevent pests from settling in your grass. But if you know you'll stick close to your outdoor furniture or grill, an electric mosquito zapper or citronella candle can clear the area without dealing with residue or excess chemicals. For personal use, of course, a mosquito repellent spray is always an option.
If you know you'll be hosting people for a barbecue, it might be a good idea to look for repellents that use as few chemicals as possible. Some of your guests may be sensitive to them, plus no one likes the taste of chemicals lingering in the air around their burger. Sprays and candles that contain citronella and lemongrass are good choices, or you could skip the scents altogether and go with an ultrasonic mosquito repellent device.
In a hurry? These are the best mosquito repellents for patios:
No matter which way you go, the best mosquito repellents for your patio are sure to keep the mosquitos away. From zappers to candles, here's a round-up of some of the best mosquito control out there to keep the bugs away for good.
This article was originally published on