Prepping For A Turkey Dinner? These Roasting Pans Will Help You Serve A Delicious Bird
We only recommend products we love and that we think you will, too. We may receive a portion of sales from products purchased from this article, which was written by our Commerce team.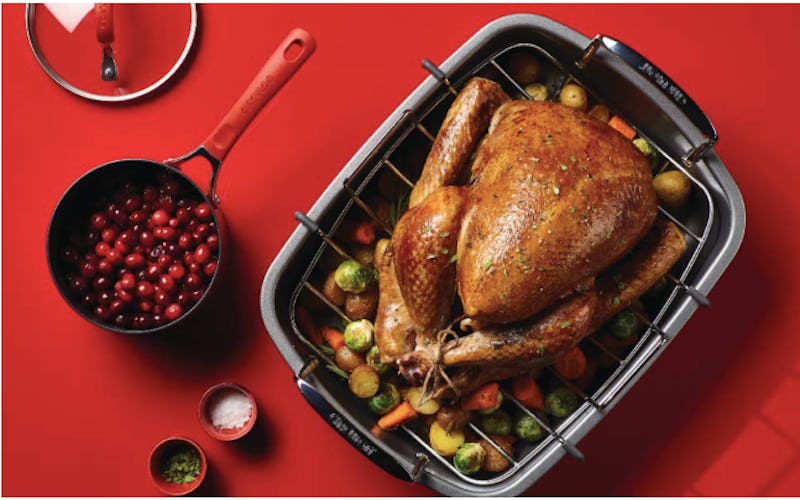 Amazon
Whether for Thanksgiving or dinner any day of the week, the best turkey roasting pans are an essential tool for cooking a perfectly roasted bird. Unlike other pans you may have in your kitchen, turkey roasting pans are deep enough to fit an entire turkey inside and strong enough to withstand the weight of a large bird and all of its drippings.
When shopping for one, you'll want to make sure you select the right pan for your needs. To help you choose, consider the following:
The size of the pan: Many roasting pans are designed to hold up to 25 pounds of food. To make them easier to maneuver in and out of the oven, you'll also find some that have oversized handles giving you a better grip.
The material of the cookware: Nonstick pans require less oil for cooking and are generally easier to clean because residue, as the name implies, should not stick to it. However, due to the delicate nature of that coating, nonstick pans are usually hand-wash only. Stainless steel cookware, on the other hand, is dishwasher safe but tends to be pricier.
Your preferred cooking method: Braising a turkey in a roaster can help produce a more tender and juicy bird, so if that's your preferred method consider using a pan with a lid. And if you like more of crisp brown skin, opt for roasting sans lid.
If you don't have an oven that's big enough fora traditional pan or prefer to not hold yours up for hours on end to cook a turkey, you can also find an electric roasting pan.
Lastly, don't dismiss disposable roasting pans. If you only roast turkeys once a year or don't have a ton of kitchen storage space, a disposable pan may make the most sense. Plus, they are the most budget-friendly option.
See below for the best turkey roasting pans you can buy — I've rounded up picks from Amazon for every poultry cooking need, including some with removable racks for even circulation, one made out of super strong hard-anodized aluminum, and two that have self-basting lids.
This article was originally published on