The 9 Best Wedge Pillows For Sex
We only recommend products we love and that we think you will, too. We may receive a portion of sales from products purchased from this article, which was written by our Commerce team.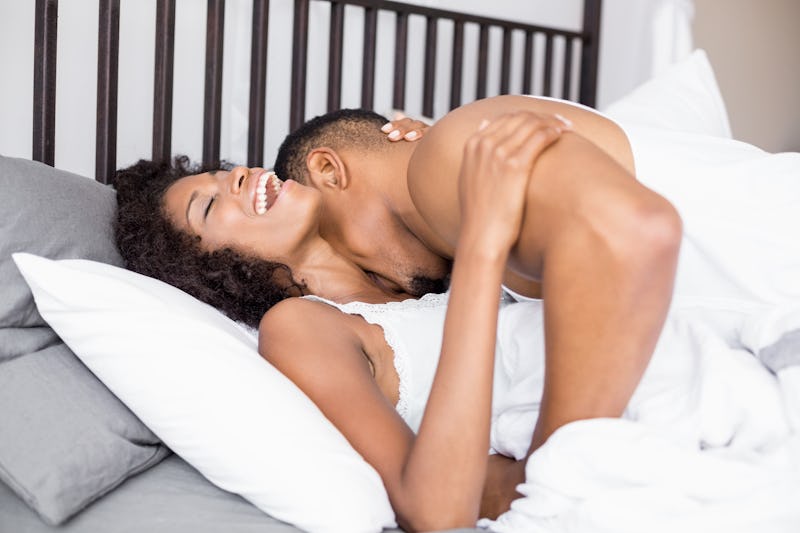 Wavebreak Media / Shutterstock
Sometimes your sex life just needs a good lift. Whether it's due to aches and pains or a simple difference in size between you and your partner, investing in one of the best wedge pillows for sex can help make some otherwise-awkward positions feel more comfortable. And according to some of the experts I spoke to for this article, that's just where the fun begins.
The Pros and Cons of Wedge Pillows
"Wedges are a great aid in the bedroom because they help people maintain a position without expending energy that would be better placed elsewhere," says Felice Lopez, a Boston-based sex educator.
While ordinary pillows can do in a pinch, using a wedge for sex is the way to go if you regularly crave more depth from every thrust. Since wedges are made from high-density foam, they won't lose their shape as easily as most ordinary pillows. This makes wedges great for both vaginal and anal sex, since they support your entire weight and offer more balance for different positions. It also makes them a game-changer for oral sex and non-penetrative forms of play, too, like spanking and other BDSM practices, because they help take pressure off the knees and other sensitive areas.
While wedges come with a few notable cons — namely, the leading models are expensive, and some are too bulky to hide away easily after use — the benefits of using one, especially for those with mobility issues, can be immense.
"A wedge under the hips can make sex more enjoyable for people with different degrees of mobility, and sometimes it makes new positions possible," says Stella Harris, sex coach and author of Tongue Tied: Untangling Communication in Sex, Kink, and Relationships.
Ready to elevate your sex game and take things to a whole new level? Below, find a list of the best sex wedges that you can leverage for more pleasure in the bedroom.
Shop The Best Wedge Pillows For Sex
In a hurry? These are the best wedge pillows for sex.
1. The Overall Best Wedge Pillow For Sex: Liberator 24-Inch Wedge
2. The Best For Anal: Drive Medical 10-Inch Folding Bed Wedge
3. The Best For Travel: NaEnsen Inflatable Wedge Sex Pillow
4. The Most Versatile: Liberator Wedge & Ramp Combo
5. The Best Budget: Xtreme Comforts Memory Foam Wedge Pillow
6. The Best For Kink: Dehigh Sex Pillow With Handcuffs
7. The Best For Missionary: Deluxe Comfort Lovers Cushion
8. The Best For Solo Play: Liberator Bonbon Sex Toy Mount
9. The Cutest Pick: Liberator Decor Heart Wedge
This article was originally published on