What Death Feels Like, According To Research & Real Accounts
#6: You might feel surprisingly OK.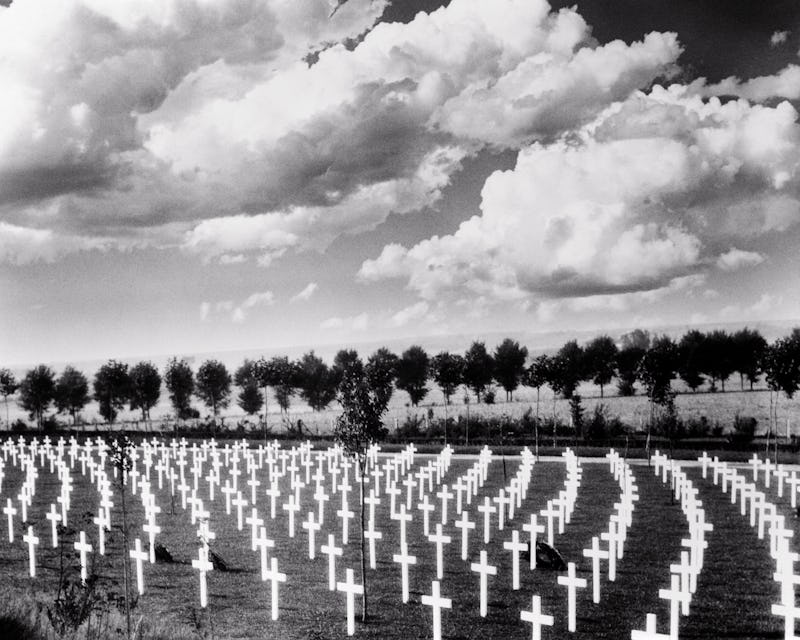 H. Armstrong Roberts/ClassicStock/Archive Photos/Getty Images
Humans are fascinated by death — and a lot of that fascination may stem from the fact that most of us just can't comprehend death in its entirety. Indeed, the answer to the question "What does it feel like to die?" is largely, we don't really know — mostly because (for what are perhaps obvious reasons) there aren't a lot of ways to gather this information. Scientists do have some guesses, though, whether that's through research on near-death experiences or through listening to people recount their first-hand brushes with the great hereafter.
We do know what happens to the body when you die, per research published in Nature in 2016: Your oxygen depletes, which slows your circulation, making your skin mottle and your extremities turn cold; it gets harder to breathe, and what breathing you are able to do becomes noisy (although for what it's worth, the "death rattle," as it's called, isn't thought to be painful); and when your heartbeat, breathing, and circulation stop, clinical death occurs. Biological death follows a few minutes later as your brain cells die from the lack of oxygen.
But as for what death feels like? Well, a lot of it depends on exactly how you die. People who die from illness, for example, aren't typically able to describe what they're feeling. As Margaret Campbell, a decades-long palliative caregiver and nursing professor at Wayne State University, told The Atlantic in 2016, "Roughly from the last two weeks until the last breath, somewhere in that interval, people become too sick, or too drowsy, or too unconscious to tell us what they're experiencing." As a result, much of the talk around death in these situations centers around what those observing it see, rather than what those experiencing it feel.
We can, however, sketch out a few things about what it feels like to die, based on the research that's been conducted and what people who have technically died, but who have subsequently been resuscitated, can remember. According to research published in Frontiers in Neurology in 2020, between 8 and 10% of people have a near-death experience sometime in their life. Ultimately, death — like so many other things — is an extremely personal event; you might experience some of these things, all of them, or none at all.
Death still is — and will likely remain for some time — the undiscovered country, but although much of it is a mystery, we're still doing what we can to unravel it. We may not know much, but what we do know is at least something. Right?
Studies cited:
Blundon, E.G., Gallagher, R.E. & Ward, L.M. Electrophysiological evidence of preserved hearing at the end of life. Sci Rep10, 10336 (2020). https://doi.org/10.1038/s41598-020-67234-9
Borjigin, J., Lee, U., Liu, T., Pal, D., Huff, S., Klarr, D., Sloboda, J., Hernandez, J., Wang, M. M., & Mashour, G. A. (2013). Surge of neurophysiological coherence and connectivity in the dying brain. Proceedings of the National Academy of Sciences of the United States of America, 110(35), 14432–14437. https://doi.org/10.1073/pnas.1308285110
Cassol, H., Bonin, E., Bastin, C., Puttaert, N., Charland-Verville, V., Laureys, S., & Martial, C. (2020). Near-Death Experience Memories Include More Episodic Components Than Flashbulb Memories. Frontiers in psychology, 11, 888. https://doi.org/10.3389/fpsyg.2020.00888
van Esch, H. J., Lokker, M. E., Rietjens, J., van Zuylen, L., van der Rijt, C., & van der Heide, A. (2020). Understanding relatives' experience of death rattle. BMC psychology, 8(1), 62. https://doi.org/10.1186/s40359-020-00431-3
Javan, G., Finley, S., Can, I. et al. Human Thanatomicrobiome Succession and Time Since Death. Sci Rep6, 29598 (2016). https://doi.org/10.1038/srep29598
Kerr, C. W., Donnelly, J. P., Wright, S. T., Kuszczak, S. M., Banas, A., Grant, P. C., & Luczkiewicz, D. L. (2014). End-of-life dreams and visions: a longitudinal study of hospice patients' experiences. Journal of palliative medicine, 17(3), 296–303. https://doi.org/10.1089/jpm.2013.0371
Kondziella D. (2020). The Neurology of Death and the Dying Brain: A Pictorial Essay. Frontiers in neurology, 11, 736. https://doi.org/10.3389/fneur.2020.00736
Martial, C., Cassol, H., Charland-Verville, V., Merckelbach, H., & Laureys, S. (2018). Fantasy Proneness Correlates With the Intensity of Near-Death Experience. Frontiers in psychiatry, 9, 190. https://doi.org/10.3389/fpsyt.2018.00190
Parnia, S., Spearpoint, K., de Vos, G., Fenwick, P., Goldberg, D., Yang, J., Zhu, J., Baker, K., Killingback, H., McLean, P., Wood, M., Zafari, A. M., Dickert, N., Beisteiner, R., Sterz, F., Berger, M., Warlow, C., Bullock, S., Lovett, S., McPara, R. M., … Schoenfeld, E. R. (2014). AWARE-AWAreness during REsuscitation-a prospective study. Resuscitation, 85(12), 1799–1805. https://doi.org/10.1016/j.resuscitation.2014.09.004
This article was originally published on