5 Things To Do During Mercury Retrogrades — And 3 Things To Avoid
They don't have to be the cosmic bummer you think they do.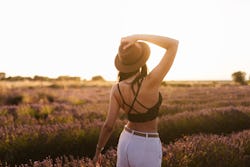 Cavan Images/Cavan/Getty Images
About three times a year, we collectively experience a chaotic few weeks, which are known as Mercury retrograde periods — you've probably heard of them, or at least experienced some of their headache-inducing effects. Mercury is the planet that rules communication, and when it retrogrades (which means it temporarily appears to move backward in the sky), it can cause miscommunications, technology issues, anxiety, and travel problems, among other dramas — so, you know, all the really fun things. Every Mercury retrograde manifests a little bit differently depending on what zodiac sign it falls into, making some periods a little less intense than others — but that doesn't mean you shouldn't take precautions. There are things you should and shouldn't do during Mercury retrograde to ensure you remain as cosmically "safe" and drama-free as possible.
Mercury retrograde periods are actually a really important time for everyone, but this transit has a reputation for being obnoxious, given that it causes all sorts of slow-downs, slip ups, and schedule snags. Because things like communication, timing, and clear thinking are on the fritz during Mercury's backspin, we're much more likely to run into hurt feelings, botched plans, missed deadlines, or general confusion — which can be really tough on our careers and relationships alike.
But this isn't inherently a bad time, if you're willing to slow down and work with the backward-moving energy. Mercury retrograde is considered a great time to look back on the past and think about what's working for us and what isn't — and it's an ideal time for reflecting on where we're at with our personal goals and readjusting our trajectory as needed. By slowing down and using Mercury retrograde as time to pause and reassess our lives, we can come out the other side even more clear-headed and focused than before.
That said, any major retrograde can definitely make you act and experience things a little differently than you normally would, so it's good to be prepared. Here are a few things you should avoid doing during Mercury retrograde — along with some things you definitely should do.
If you know what to do, Mercury retrograde periods don't have to be the cosmic bummer that their reputation would have you believe. Slow down, take a breath, and follow the basic Mercury retrograde precautions to ensure that these tri-annual backspins run smoothly and don't get in the way of your chill.
This article was originally published on