21 Podcasts That Celebrate Women's History All Year Long
It's important to understand how women before us helped pave the way.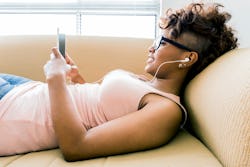 Hispanolistic/E+/Getty Images
March 8, 2021, is International Women's Day, and while it's rooted in activism and advancing equality, there isn't any one "correct" way to celebrate it. In fact, sometimes one of the most important things you can do is educate yourself. And if you don't know where to start, there are plenty of podcasts that'll teach you the women's history you didn't learn in school.
International Women's Day was first officially celebrated in 1911 in Austria, Denmark, Germany, and Switzerland. Today, it's recognized in more than 20 countries around the world as "a global day celebrating the social, economic, cultural, and political achievements of women." At the same time, the International Women's Day website points out, it's a call to action to close the gender gap and promote equality. And while taking to the streets to protest is one way to show your support, it's not the only way. To recognize where change is needed, it's also important to understand how women before us helped pave the way. The tidbits of history you might not have known can help inform how to continue moving forward.
Here are 21 podcasts about women's history that you can listen to this International Women's Day and every day after that.