3 Zodiac Couples Whose Marriage Compatibility Is Off The Charts
This is as close as it gets to being written in the stars.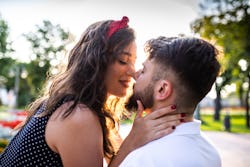 Aleksandar Jankovic/E+/Getty Images
Have you ever seen a married couple still happily in love after all these years and wondered what they know that the rest of us don't? Every relationship book out there will likely tell you that loyalty, honesty, open communication, and a willingness to keep working on the relationship are essential. While that's definitely true, the real secret to a long-lasting marriage may be in the stars. According to an astrologer, there are three zodiac couples whose marriage compatibility is off the charts.
Who you're attracted to, what you need in a relationship, and your most compatible personality types can all be seen in your birth chart. When astrologers do synastry readings, which are basically relationship readings between two birth charts, they'll check a few things to see how compatible you and your partner are. For instance, Elisa Robyn, Ph.D., an astrologer and astrology transitions consultant, tells Bustle that she'll look at Sun, Moon, and Venus signs and the seventh and eighth house which deal with partnership and sex.
"Often, a chart will show us how we need to relate to each other if we want a successful relationship," Robyn says. "We can see how someone else communicates, how they believe life should work, what they fear, what they crave, and their life mission. Finding marriage compatibility in astrological charts takes a bit more than just looking at Sun signs."
Although having compatible zodiac signs may not guarantee a long-lasting marriage, it can help. With that said, here are three zodiac couples whose marriage compatibility is off the charts, according to an astrologer.