The 3 Zodiac Signs Most Likely To Be Your Soulmate, Based On Your Sign
Soulmates aren't always romantic partners.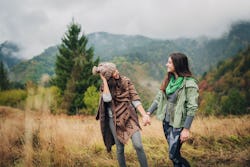 Vasil Dimitrov/E+/Getty Images
Looking for your soulmate is no easy thing, but you don't have to wait until the stars are perfectly aligned to find the one for you. With the help of astrology, you can have an idea of who's a good match for you or not based on your birthday. It's no secret that some zodiac signs go well together, while others don't. And when you know which zodiac signs are most compatible with yours, you may be able to tell which zodiac signs are most likely your soulmate.
"A soulmate is a person with whom you have a deep soul connection with," astrologer Rachel Lang, tells Bustle. "You can feel as if you have a soul contract to meet and be in some kind of relationship because the connection feels fated or destined."
If you're lucky, your soulmate will be the person you end up with. But it's also important to note that soulmates don't necessarily have to be romantic. While we tend to feel the strongest pull towards romantic connections, Lang says your closest friend, a family member, or a mentor can also be a soulmate.
"Each person is unique, and so there is no one template when it comes to love," Lang says. "It's important to be open, as our soulmates are often the people with whom we are here to stretch, grow, and do our spiritual work." So you may be surprised to find that your soulmate may not be a zodiac sign that you're not usually compatible with. These may not be the easiest relationships, but they'll still make for great matches because they help you grow.
If you're interested to find out who your zodiac soulmate might be, here are three zodiac signs most likely to be your soulmate.
Sources:
Rachel Lang, astrologer
Clarisse Monahan, astrologer
Leslie Hale, an astrologer with Keen.com
Jill Loftis, astrologer with Nuit Astrology
Abigail Nora, astrologer
Rowena Winkler, Ph.D., cosmic catalyst coach and astrologer
Lisa Kiss, astrologer
Jacq Dowling, astrologer
Simone Pinkhasova, astrologer
Dana DeFranco, astrologer and co-host of the Allegedly Astrology podcast
This article was originally published on