3 Zodiac Signs Most Likely To Be Aries' Soulmate
What do you get when you add fire and fire?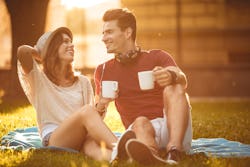 fotostorm/E+/Getty Images
Bold, spontaneous, passionate, and determined are all traits that describe the fiery first sign of the zodiac. When you're number one like Aries is, it's only natural to accept nothing less than the best, especially when it comes to picking a romantic partner. While the ram definitely has their fair share of admirers and compatible zodiac matches, there are only three zodiac signs most likely to be Aries' soulmate. So, whether you're an Aries yourself or crushing on one, astrologer Clarisse Monahan reveals which signs can catch their attention and actually keep it long-term.
"Aries gets a bad rap for being selfish and unromantic, and while the former can be accurate, the latter is definitely not," Monahan says. "Aries are actually super romantic creatures and love nothing more than being in that twin flame/soulmate connection."
According to Monahan, the zodiac signs most compatible with Aries have a few key traits in common. For one, they tend to be direct and honest about what they want and need. While Aries may be competitive, they aren't into playing games in relationships. Once they know what someone wants from them, they'll be able to let their guard down. Aries also expects loyalty and a sense of freedom from their partner, which all three signs can provide. "Anyone who allows Aries to be themselves and doesn't interfere with their dreams is key," Monahan says.
Here are the three zodiac soulmates for Aries, according to Monahan.