These 3 Zodiac Signs Are The Biggest Flirts, According To Astrologers
They're not afraid to make eyes from across the room.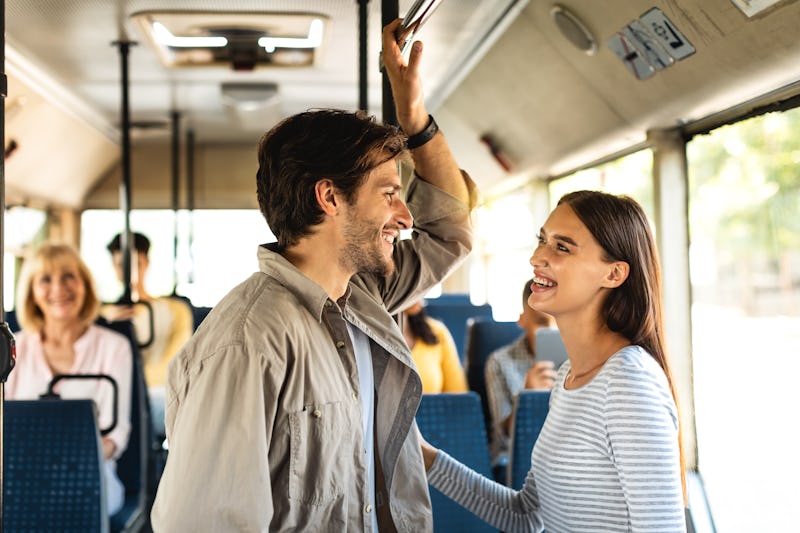 Shutterstock
Flirting is a talent that everyone can master, but there are some people who can go from friendly to flirty at the drop of a hat. If you're the friend that's always leaving your number for the waiter after dinner or making eyes at stubborn bouncers who won't let your squad in the club, you've probably chopped up your flirty ways to your extroverted personality in the past. But it could also have something to do with your zodiac sign, especially if you're one of these three fire and air signs, according to astrologers Annabel Gat and Ms. Charlotte.
Gat explains that air and fire signs are ruled by positive polarity, which is all about action. Though the signs that belong to the positive polarity aren't automatically more flirtatious than others, they are more willing to be loud and proud about their feelings towards another person, which can earn them the label of "flirt" pretty quickly. "Fire and Air are more likely to tell you they have a crush, while the Earth and Water signs are more likely to show you, perhaps by gently touching your arm while you talk," says Gat.
Of course, there are plenty of factors at play beyond a person's zodiac sign when it comes to being flirty, such as their personality and even their environment. But considering Gat and Ms. Charlotte shared the same views about the signs that are the biggest flirts, these signs might be more inclined to give a compliment or sweet smile to the next person that catches their eye.
Sources
Annabel Gat, author of The Astrology of Love & Sex
Ms. Charlotte, astrologer