3 Zodiac Signs Most Likely To Be Libra's Soulmates
"Fire and air signs are the best matches for you, but beware the drama."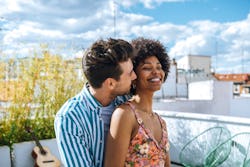 Westend61/Westend61/Getty Images
Deciding whether someone is the right person isn't always easy, especially when you're a Libra. As the Venus-ruled sign of partnerships, nothing makes you happier than being in a relationship. But since the scales represent you, you're notorious for being indecisive. Luckily, when you're finally ready to settle down, there are three zodiac signs most likely to be Libra's soulmate. If you're not weighing the pros and cons of committing, you're debating whether the person you're into is long-term relationship material. And fortunately, astrology is here to help make finding "the one" much more manageable.
As astrologer Cassady Cayne tells Bustle, a Libra's ideal partner is friendly and appreciates beauty and harmony. You're a natural flirt who enjoys light and pleasant interactions and exchanges. Anyone too emotional, like a water sign, or too serious, like an earth sign, will likely drag you down and kill your mood. "Fire and air signs are the best matches for you, but beware the drama that fire may bring," Cayne says.
You tend to people-please, so you like to mask your true feelings in relationships. But you're less likely to hide who you are and how you feel when you're with a zodiac sign you're more compatible with. So, here are the three zodiac signs that are Libra's soulmates, according to Cayne.