3 Zodiac Signs Will Be Trying To Hook Up The Second Quarantine Is Over
Not an actual relationship.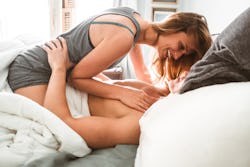 franckreporter/E+/Getty Images
Having some no-strings-attached fun with a total stranger may not seem as sexy as it did six months ago, but that won't stop some people from looking for casual sex once quarantine is over. According to an astrologer, there are three zodiac signs who'll be more interested in finding a post-quarantine hookup than a post-COVID relationship.
Surprisingly, one sign that won't be on the hunt for some casual fun is Gemini. While Gems are normally into variety, astrologer and cosmic coach Veronica Perretti tells Bustle that they've had Venus in retrograde in their sign all summer. "Some Geminis may be feeling clear about what they want from a relationship and are ready to seek it out once lockdown is lifted," she says. "They may even have some hot prospects saved on their phone or a steady virtual thing going on already."
Unsurprisingly, Cancers will also be ready to settle down. According to Perretti, Venus, the planet of love and romance, will spend August in their sign, which will make crabs crave love and affection much more. "Cancers are generally driven by a need for safety and security, so after all the hubbub in their home sign over the past couple of years, they're ready to lock it down, not get out," she says.
But for the Aries, Libras, and Capricorns out there, be sure to educate yourself on how to practice safe sex amid a pandemic. According to Peretti, these three signs are most likely to look for hookups over a relationship post-quarantine.