3 Zodiac Signs That Struggle With Flirting On Dating Apps
Aries — baby girl, what is you doing?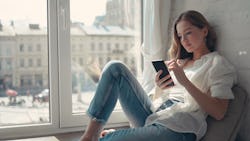 Shutterstock
Dating apps can be an easy and stress-free way to meet new people — until, that is, you check your inbox to find a sad mix of creepy, gross, cheesy, and just plain boring opening messages. Unfortunately, not everyone was blessed with the ability to come up with witty and engaging one-liners, and their birth chart may be to blame. While some zodiac signs are good with words, three zodiac signs that struggle with flirting on dating apps the most.
Let's start with the good. As astrologer Elisa Robyn, Ph.D. tells Bustle, Venus-ruled Libra is one smooth-talking sign that knows just what to say on dating apps in order to get a positive response. "They're so very kind, considerate, and romantic," Robyn says. "Libras will ask you to share something lovely about yourself in their opening lines. They want to know what you like and who you are." It's an approach that at least one of the three signs below doesn't take.
Sagittarius is another sign that sends the best dating app messages. Although they aren't known for being super romantic, they're outstanding storytellers and poets. According to Robyn, their openers may include a poem about your smile or profile. Since they're into traveling, they may even dive into a pleasant conversation about the types of adventures you love.
With that said, here are the three zodiac signs who'll make you regret swiping right from their opening messages alone, according to Robyn.