Dating App Messages With *These* Words Result In The Most Convos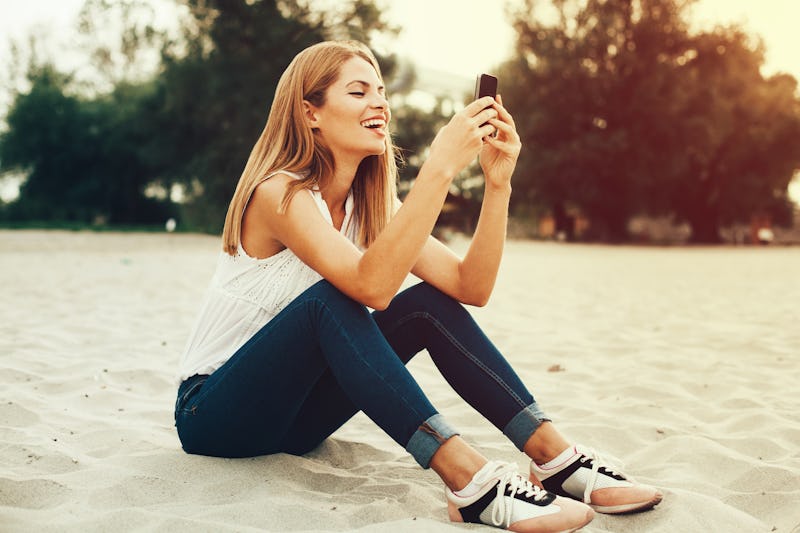 It's the oldest story in the world of online dating: You get a notification and see that cute person from a dating site matched with you. You're eager to message them but worried about what to say to your online match. How do I sound interested but not too interested, you think. Well, luckily, Plenty of Fish has your conversation-starters tested and ready to go.
If you're not familiar with Plenty of Fish, it stands as the world's largest free online dating service boasting over 100 million registered users worldwide. The company looked into what the most common words singles use in first messages that turn into conversations were. They looked through hundreds of thousands of messages to determine the top results for both men and women. And no surprise here the more aggressive openers didn't make the cut, but showing interest did.
Whether you're a committed online dater or just getting started, using these words can help you break the ice and keep your nerves at bay.
Here are the buzzwords that lead to a conversation for men and women:
For Women
Nice
Love
Handsome
Great
Smile
Beautiful
Cute
Interested
Chat
Meet
For Men
Beautiful
Love
Nice
Gorgeous
Pretty
Sexy
Today
Great
Smile
Interested
Men had the most success in starting a conversation online when they started with a compliment. Plenty of Fish found that 20 percent of guys who had the word "beautiful" in their first message began a conversation. "Nice" and "love" both made it into the top five for men and women, making them two words to seriously consider using. Of course, that doesn't mean you should go around telling your matches you love them in your first communication. Instead try saying that you love the sports team they're a fan of or the location of one of their photos. It's an easy way to start a discussion.
Another keyword to be aware of is "interested." If you're looking for the real thing on dating apps, you want to know that the other person is too. "If I got a message from a guy that said hey, I would assume he sends 'hey' to whomever," Jess Carbino, Tinder's sociologist, tells Bustle. "I don't want to think that you're sending out the same thing to every girl. I want to know that you've looked at my profile, that you saw a picture of me running or a picture of me at the beach, and that you're interested in getting to know me better."
At the end of the day, remaining authentic is the most important thing while on a dating app. If you're able to incorporate some of these words in naturally, that's great. If not, just be yourself while you look for someone. Either way, you'll figure it out one message at a time. Good luck.