3 Zodiac Signs Most Likely To Be Taurus' Soulmates
What blends well with a fixed earth sign?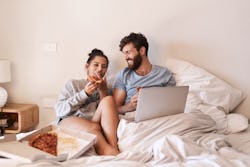 PeopleImages/E+/Getty Images
When Venus, the planet of love, beauty, and luxury, rules your zodiac sign, you're bound to have certain standards for your ideal partner. Sure, your dating history may be shorter than your to-do list, but that's only because you're pretty selective about who you go out with. When you're a fixed earth sign like Taurus, you'd rather wait forever for the right one to come along rather than waste your time on incompatible matches. If you're a Taurus and happen to come across a Virgo, Libra, or Pisces, don't be afraid to give them a chance. According to an astrologer, these three zodiac signs are most likely to be Taurus' soulmate.
"Taurus is a sign that can go the distance with just about anything, and relationships are no exception," Jessica D'Angio, astrologer and owner of MsFortune Astrology, tells Bustle. "My biggest concern for my Taurus clients is stagnation." They may tend to stick with people who are no good for them for longer than they should, "usually out of a need for comfort," D'Angio says. "So Taurus needs a long-term partner who is genuine, faithful, and really wants to create something harmonious for the long haul."
These earth signs can also benefit from a little spontaneity every once in a while. Since Taurus is a fixed sign, they tend to stick to a routine. According to D'Angio, a flexible, mutable sign can keep the bull from getting stuck in its place