The 3 Zodiac Signs Most Likely To Have A Fling On Vacation
Live out your Mamma Mia! fantasies.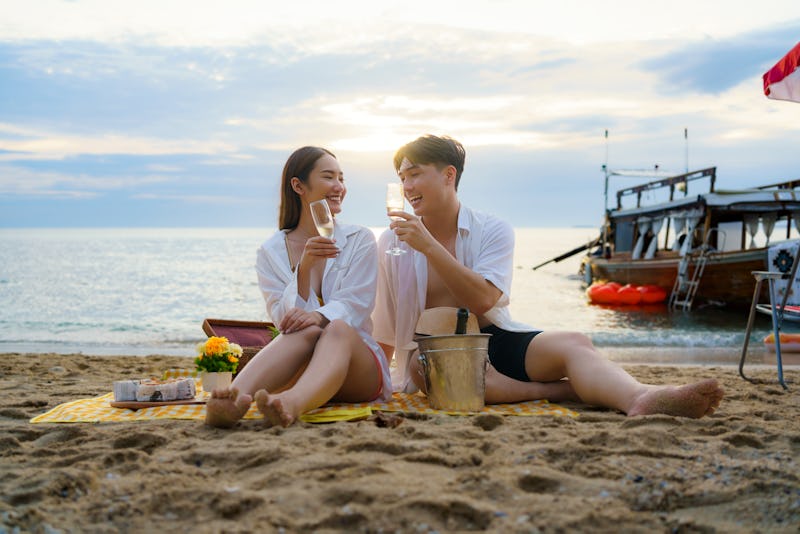 Prasit photo/Moment/Getty Images
There's a lot that rom-coms get wrong (I'm still waiting for my enemies to become my lovers, TBH), but if there's one thing they got right, it's vacation hook-ups. We all feel like the best version of ourselves on vacation, and if those versions are meant to make out with a stranger on the beach, then so be it. But some people are able to take it a step further and turn one night of passion into a full-on fling. According to an expert, it may have something to do with their zodiac sign, so if you always return from vacation with a story that can be its own spicy book plot, you could be one of these three signs.
According to Michelle Bell, founder of the astrology app Cosmic Fusion, the people who are most likely to have a fling on vacation all have something in common: They each get their magnetic, outgoing, and charming personalities from their zodiac signs. They're also open to adventure and new experiences, which means they're able to fit a whole lifetime's worth of thrilling experiences into a short-lived romance. Whether or not they leave for their trip with intentions of having a vacation fling, they always manage to make the most of their vacay by cozying up to a local or taking on the town with a fellow tourist.
Source:
Michelle Bell, founder of Cosmic Fusion