10 Awkward Sex Moments That Can Happen With A New Partner & What To Do About It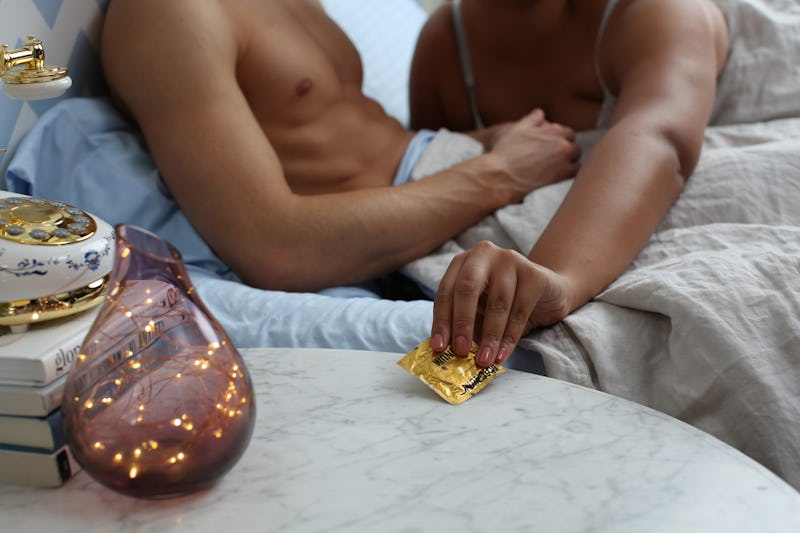 Ashley Batz/Bustle
There you are, in bed with someone new, ready to get down. While this is indeed often very exciting, it can also, understandably, cause a storm of nerves and uncomfortable feelings. Awkward sex experiences are the name of the game when it comes to new partners. But that's OK, and there are solutions.
First and foremost, having consent to move forward for the first time —or any time, for that matter — is super important, and sets good communication in motion. And while even talking about sex with a first time partner might get your nerves in a bundle, it truly gets easier the more you do it. So break the ice!
"It is best to communicate your sexual preferences at a time when you are not hot and heavy," Valon Alford, MSW, LCSW, a psychotherapist and sexologist, tells Bustle. "And if the first encounter is not pleasant, be open. It tends to get better over time."
And this isn't exactly a shocker, but the first sexual encounter with a new partner can be disappointing, says Alford. Sometimes the anticipation of the moment, the story you've created in your head, the duration, or performance of your partner can be underwhelming. Not to mention, we can get so entangled with our thoughts that we aren't present in the moment. But don't get too down on that, Alford says. Good sex usually takes time.
And it's all OK. You can fall off the bed, fart, or even start crying — these things happen. Below, the pros point out some of things you might encounter with a new sex partner that feel hella awkward, but are totally common.