10 Grassroots Organizations That Are Fighting Back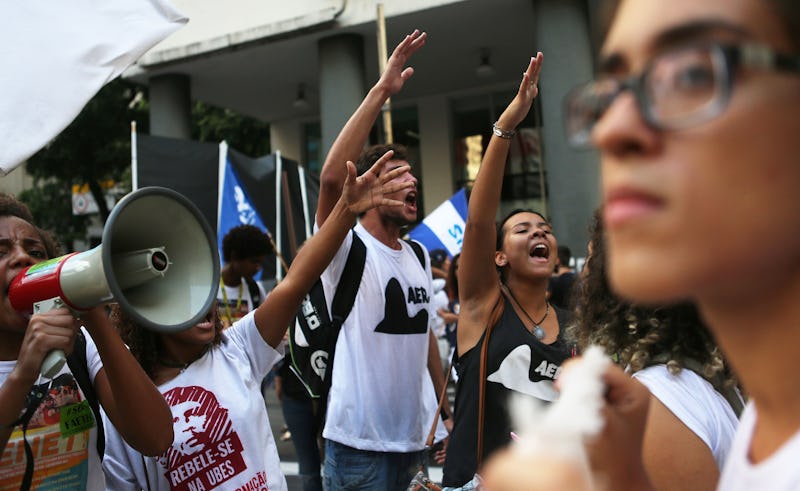 Mario Tama/Getty Images News/Getty Images
Necessity is the mother of invention. And, with the systematic defunding or outright elimination of many organizations that millions of Americans rely on for their very survival, many grassroots organizations are fighting back during the time of Trump. Numerous groups have sprung up since the election with the singular goal of protecting the rights the Trump administration and Republican-controlled Congress threaten to dismantle.
Here's quick recap to get you up to speed: During his his two months in office Trump hasn't wasted any time making good on his promise to threaten rights for immigrants, the LGBTQIA community, and women. He and his administration have also targeted the Affordable Healthcare Act, after-school food programs, Meals on Wheels, the Environmental Protection Agency, the National Endowment for the Arts, and Planned Parenthood.
But there's hope, too: Every day, people are fighting back by mobilizing in support of the resistance to help immigrants and their families, protect reproductive rights, encourage Millennials to run for office, combat racial injustice, preserve freedom of the press, and more.
At a February United Talent Agency rally — designed to express the creative community's support for freedom of speech, artistic expression, and to stand against policies of exclusion and division — actor and director Jodie Foster encouraged people to take a stand. "This year is a very different year, and it's time to show up. It's time to engage," she told the crowd, according to an article on Deadline. "As the very, very dead Frederick Douglass one said, 'Anytime is a good time for illumination,' and this is the time for illumination. I believe this time is filled with light."
These organizations are doing just that to fight back during the time of Trump.