Starbucks' International Holiday Drinks Are So Extra You'll Drool Just Looking At Them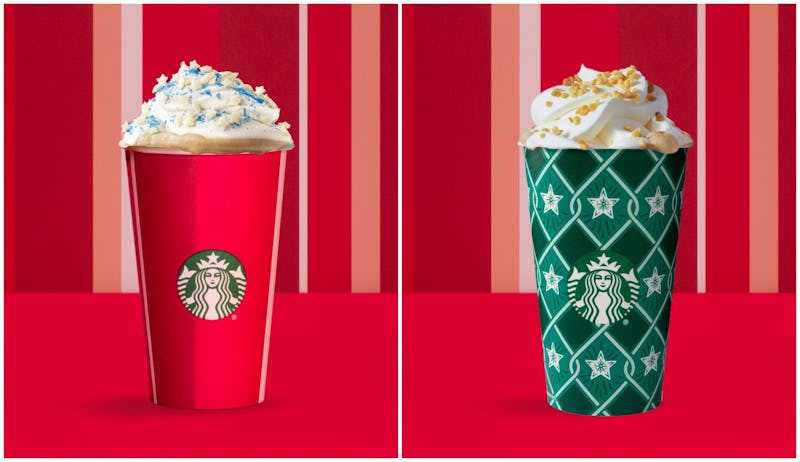 Starbucks
So, hey, remember when the internet discovered that the Starbucks holiday drink menu in Europe includes a Salted Caramel Brownie Hot Chocolate, thereby causing everyone to lose every ounce of chill they had ever had? Well, get ready to have your over-caffeinated brain blown all over again, because I'm about to introduce to all of the other international Starbucks holiday drinks you had no idea you were missing. I mean, sure, I love a good Peppermint Mocha as much as the next seasonally enthusiastic coffee lover — but even that holiday juggernaut pales in comparison to some of the things you can get elsewhere in the world.
Brace yourselves. We're going on an adventure.
We've probably got the Peppermint Mocha to thank for the influx of limited edition seasonal beverages that take over Starbucks stores every winter; as Starbucks lore tells it, the success of the Peppermint Mocha during the 2002-3 holiday season paved the way for the development of virtually every other seasonal hit the company has put out since — including fall's Pumpkin Spice Latte. But what's really fascinating is seeing how that success has been replicated through adaptation in other markets. What works in the United States might not work in Asia; what works in Asia might not work in Europe; what works in Europe might not work in Latin America; and so on and so forth. So, rather than just churning out the same drinks everywhere in the world, each market offers its own takes on limited edition menus inspired by the flavors those particular geographic areas associate with the seasons in question. Neat, right?
We've already covered the Salted Caramel Brownie Hot Chocolate and the Christmas Brulee Latte, so we'll bypass those two drinks this time round; for more on them, head here. Read on for all sorts of other treats you can only get in specific areas of the world: