Starbucks' Salted Caramel Brownie Hot Chocolate May Be The Yummiest Holiday Drink Yet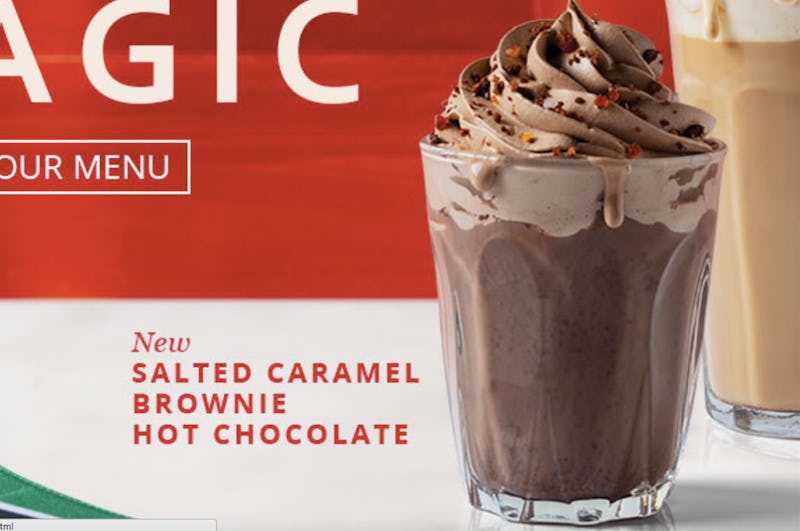 Starbucks Europe
Winter holiday Starbuck fanatics? I have some very important information for you today: There's a Salted Caramel Brownie Hot Chocolate at Starbucks locations in Europe for the 2018 season. Repeat: There's a Salted Caramel Brownie Hot Chocolate at Starbucks locations in Europe for the 2018 season. And I want it. Alas, I cannot have it, because I do not live in Europe — so, uh, European readers? If you get it, please post pics. It's as close as I can get to actually enjoying the thing.
It all started when I spotted a bunch of photos posted in the still-active Leaf Raker's Society Facebook group over the weekend featuring the hot chocolate in question. Nearly all of them featured chalkboard signs promoting the drink, and most of them were captioned with something along the lines of, "Meanwhile, in Belgium…" So, I did a little digging, because, I mean… how could I not want to know more about a Salted Caramel Brownie Hot Chocolate and the country in which it might be acquired?
But then, things took a turn.
You see, while I was investigating, I found the master site selector for Starbucks.
This page includes links to every single Starbucks site for every country the company has a presence in all over the world. I've been to a few of them before, of course — namely the sites for Starbucks Japan and Starbucks Mexico — but here was a wealth of Starbucks sites I had hitherto never explored.
I clicked through a few different pages. Starbucks Netherlands. Starbuck Austria. Starbucks France. Starbucks UK. And as I did so, it became apparent that the Salted Caramel Brownie Hot Chocolate doesn't just exist in Belgium.
It exists in most of Europe.
I am now actively wondering — not for the first time — why I do not live in Europe.
From what I gather via chatter on social media, the Salted Caramel Brownie Hot Chocolate is actually new this year — and, interestingly, not an altogether welcome change. The Sun reports that it replaced the usual holiday hot chocolate, Fudge Hot Chocolate. As described by the Starbucks UK site, the Fudge Hot Chocolate is a "creamy milk hot chocolate with fudge flavor, topped with fudge whipped cream and finished with a gold chocolate curl topping." A longtime favorite, many Starbucks enthusiasts in Europe look forward to this seasonal specialty with the same fervor those of us in the United States anticipate the Peppermint Mocha.
The Salted Caramel Brownie Hot Chocolate, meanwhile, seems to have a bit more of a complex flavor profile: Per Starbucks UK, it's made of "steamed milk and mocha… combined with a rich salted caramel sauce, topped with a salted caramel brownie flavored whipped cream and finished with a blend of brownie crumbles and salted caramel brittle." It's said to strike "the perfect balance between sweet and salty."
Given that the Salted Brownie Hot Chocolate sounds more like a proper mocha than a hot chocolate — even though it doesn't appear to have any espresso in it — I can see how it might be a bit of a shock to folks who were looking forward to what's usually a cup of melted fudge.
Lots of others are thrilled with the new drink, though, so, as with most things, your mileage may vary.
Oh, and hey, as a bonus, the Sun reports that the Salted Caramel Brownie Hot Chocolate is a tiny bit cheaper than the Fudge Hot Chocolate was last year, so there's that. I, for one, desperately wish we had access to this treat in the States — so at least I can live vicariously through others' posts about thee drink on social media.
But wait! There's more! The Salted Caramel Brownie Hot Chocolate is not the only holiday drink Starbucks locations in Europe have that their United States counterparts do not. Also on the menu this year is the new Christmas Brulee Latte — which, honestly, sounds a bit like what might happen if the Eggnog Latte and the Caramel Brulee Latte we have over here in the States had a baby.
According to the Starbucks U.S. menu, the Eggnog Latte is "made with rich, steamed eggnog and our signature espresso" and topped off with a dusting of nutmeg. The Caramel Brulee Latte, meanwhile, combines "espresso, steamed milk, and rich Caramel Brulee sauce" finished with whipped cream and Caramel Brulee Topping. And the Christmas Brulee Latte? Well, it's kind of a mix of both: According to Starbucks UK's menu, this holiday drink is made of "rich Crème Brulee Sauce … mixed with creamy eggnog milk, poured over our Espresso Roast and finished with a Christmas Brulee Topping."
You've got the brulee sauce. You've got the 'nog. You've got the espresso. And apparently, combining all of those things together yields a perfectly Christmassy drink.
Both drinks, along with a whole host of other holiday exclusives, can be acquired at Starbucks locations in a number of European countries this year. Are you in Europe? Check out the Starbucks website for your country. It should tell you whether these treats are on the menu for you. Good luck, my friends. May your holidays be full of tasty deliciousness.