10 Vitamin C Products That'll Brighten Your Skin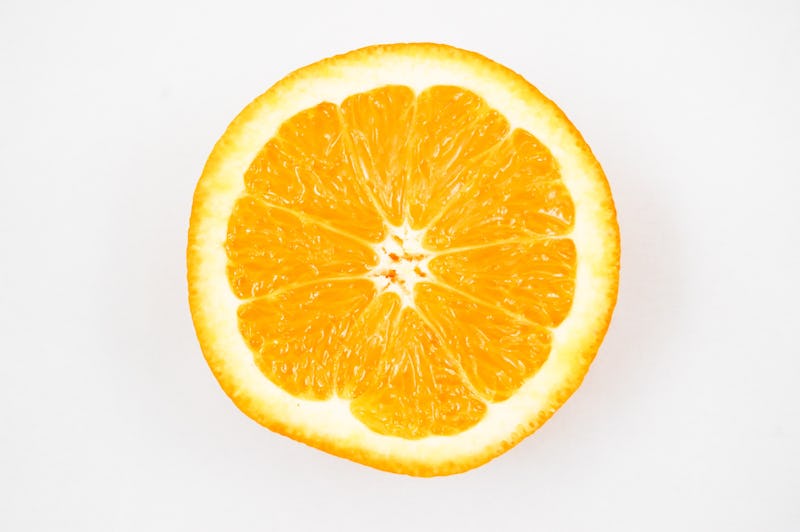 https://static.pexels.com/photos/52533/orange-fruit-vitamins-healthy-eating-52533.jpeg
If you've been paying attention to what's trending in beauty, then you know that Vitamin C is hot, hot, hot right now. Not only is it an essential vitamin that helps your body function to its fullest potential, it's also a savior for your skin. If you haven't hopped on the trend yet, here are nine Vitamin C beauty products to help your face glow.
You can get your daily dose of Vitamin C in a ton of different ways. Oranges are a great source (does it still count in mimosas?), but you can also find Vitamin C in kale, cantaloupe, and strawberries. Because your body can't product Vitamin C on its own, it relies on your healthy choices to get enough. The U.S. National Library of Medicine suggests at least 75mg of Vitamin C a day.
But what about your skin? Vitamin C helps regenerate cells, boost collagen, smooth fine lines and wrinkles, and brighten a dull complexion. If you aren't an orange fan and a cold, dreary winter is getting you down, reach for Vitamin C-packed products to nourish and repair your skin. You can find Vitamin C products everywhere, from the drugstore to the department stores, in serums, moisturizers, cleansers, and even foundations. No excuses!
So grab your Sephora card or stop by Walgreens and shop these essential sunny skin care items.
Revision Skincare Vitamin C Lotion, $100, Amazon
This bad boy boasts the highest concentration of Vitamin C available — a whopping 30 percent. It'll brighten, hydrate, and tone skin.
Tarte Maracuja C-Brighter Eye Treatment, $38, Sephora
Got tired, damaged skin? Maracuja oil has fatty acids that can smooths and revives.
Ole Henriksen Truth To Go Vitamin C Wipes, $15, Sephora
Brighten on-the-go by stashing these wipes in your car or gym bag.
Murad Essential-C Cleanser, $28, Amazon
Wake up with an energizing citrus smell, which has been proven to boost your mood.
Clinique Fresh Pressed System, $27, Sephora
This is an entire system of skin care centered on brightening your complexion.
The Body Shop Vitamin C Glow Boosting Exfoliator, $14, The Body Shop
These citrusy smells can be energizing, helping to wake you up in the A.M.
Bobbi Brown Vitamin Enriched Face Base, $58, Sephora
Prime and protect against damage thanks to grapefruit and geranium.
IT Cosmetics CC Cream, $38, Sephora
Collagens, vitamins, peptides, antioxidants — the gang's all here with a lightweight CC cream with SPF 50 so you can wear it all summer.
Glam Glow Flashmud Brightening Treatment, $69, Sephora
No matter your skin type, you can use this mask to even your skin tone and erase dark marks caused by sun, age, or acne.
Epicuren Vitamin C Complex, $35, Amazon
This product is made with an advanced blend of vitamin C antioxidant complexes that help neutralize free radicals and reduce signs of aging.