Why You Should Put Vitamin C On Your Skin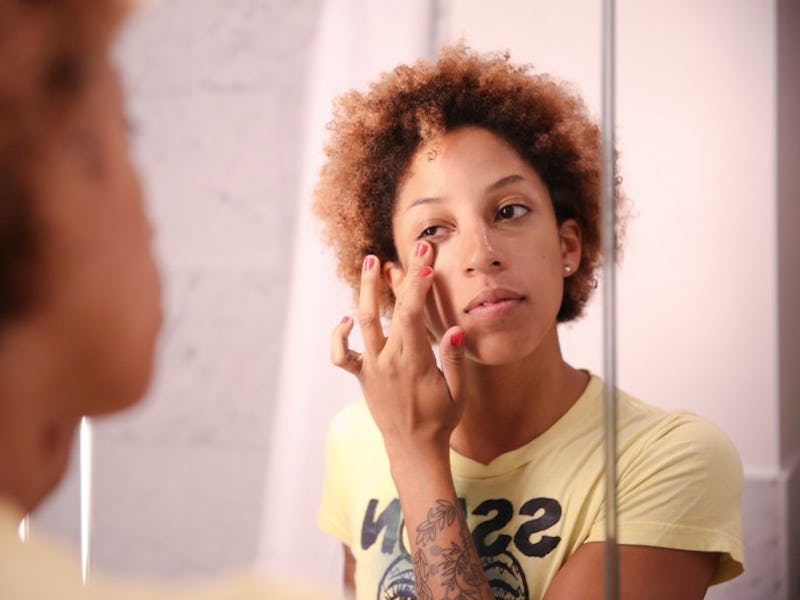 You generally think of vitamin C as being something you take to boost your immune system, but it actually has several benefits when applied topically, too. If you're curious as to what vitamin C does for your skin, it is good for so many things, that almost anyone could have a use for it in their beauty regimen.
You eat your citrus, or maybe you even take supplements, but there's another way you can add more vitamin C into your life — by applying it to your skin. Vitamin C is an antioxidant (and you know how important it has to have those in your beauty routine) and can provide protection from free-radicals and the environment. That sounds great and all, but what effects are you actually going to see?
Vitamin C can produce a wide range of benefits, from protection from the sun to anti-aging. When applied topically, it can help boost collagen (which in turn, can fade the appearance of fine lines and wrinkles), fade brown spots/sun damage, reduce inflammation, fade red marks and scars from breakouts, and even increase your sunscreens effectiveness against UV exposure, according to the Journal of the American Academy of Dermatology. Whoa. Mind = blown.
If you want to try applying vitamin C to your skin, shop these seven products.
1. VoilaVe
Vitamin C Serum; $19.95; amazon.com
This serum combines three forms of vitamin C for maximum benefit.
2. Amara Organics
Vitamin C Serum; $15.95; amazon.com
With 20 percent vitamin C, this serum is extremely potent, but still gentle enough for your skin.
3. ArtNaturals
Enhanced Vitamin C Serum; $10.95; amazon.com
If your concern are wrinkles and lines, try a vitamin C serum formulated for anti-aging.
4. TruSkin Naturals
Vitamin C Serum; $19.99; amazon.com
Instead of using multiple products, shop one with vitamins C, E, and hyalruonic acid.
5. InstaNatural
Skin Brightening Serum; $15.15; amazon.com
Skin feeling dull? Try this vitamin C serum to brighten your face.
6. Advanced Skin Care
Retinol Plus; $23.90; amazon.com
Fight aging and acne at the same time with this serum that also has retinol in it.
7. Azure Naturals
Professional Strength Vitamin C Serum; $35.88; amazon.com
If you don't have sensitive skin, try a professional strength serum.
Want more fashion and beauty tips? Check out the video below and subscribe to Bustle on YouTube!
Images: Amazon; Isla Murray/Bustle