10 Women Reveal The Most Thoughtful Wedding Gift They Received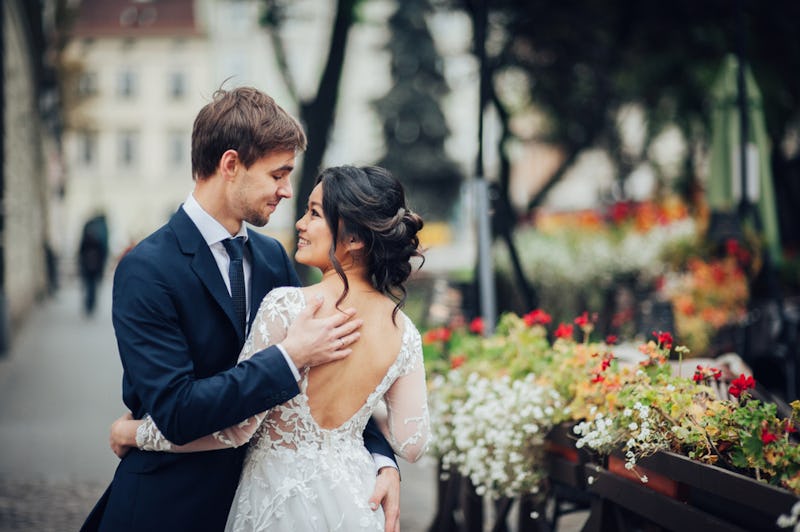 Ladanivskyy Oleksandr/Shutterstock
It can be stressful to figure out what to wear to a wedding, and to coordinate your travel plans and all that, but it's really the whole gift-giving thing that takes the wedding cake when it comes to the forethought of being a guest. Yes, thoughtful wedding gifts can be difficult to come by, but with a little extra mind (and heart) power you can bring along something that really touches the happy couple for years to come.
And hey, a great thing to remember is that, while gifts are a wonderful way to celebrate the big day, showing up to be a part of it all is no small potatoes to the celebrants. As Aubrey, 36, tells Bustle, "Everyone coming to Costa Rica for our wedding was the real gift. That thing people say about having everyone you love in one place really is the best gift."
But she did say that if you are totally at a loss for what to get, there is nothing wrong with just following the lead of a registry! Aubrey says that when it came to material stuff, she really did appreciate when people just got something off the registry.
"We put a lot of thought into that and when we use things I still remember who got them," she says. "So while material gifts aren't the point, it's still a reminder of the love surrounding you."
Below, 10 women share the most thoughtful wedding gifts they received, items and experiences they will never forget. Ain't celebrating love grand?