14 Women Reveal Exactly How Much Money They Spent On Their Wedding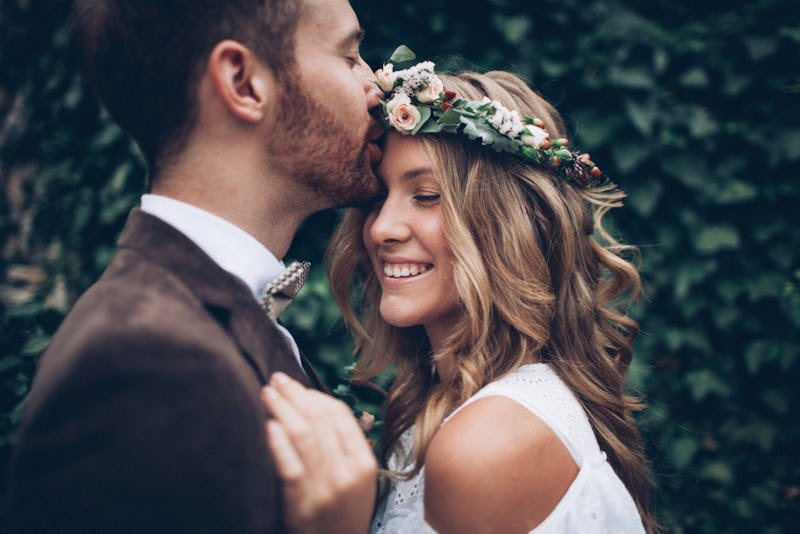 Pavlo Melnyk/Shutterstock
When it comes to wedding budgets, they seem to run the gamut on how much couples spend for their big day. While some couples may try to spend as little as possible, others may not flinch when it comes to the wedding tab. However, at the end of the day — or ceremony — how much to spend on your wedding is a personal decision.
According to The Knot 2018 Real Weddings Study, the average cost of one was $33,931 in 2018. To find this out, The Knot surveyed more than 14,000 U.S. brides and grooms married in 2018 between the ages of 18 and 65+, and discovered that, on average, people spent $2,564 in libations, $70 in catering (per guest), and $1,631 on a wedding gown. While getting married in Manhattan was the most costly, $96,910, getting hitched in Idaho was the least expensive, $16,366.
As for how much to spend on your wedding, Andrea Woroch, consumer and money-saving expert, tells Bustle that although it is your big day, it does not necessarily have to be big in cost. "Couples often get wrapped up in the excitement of planning their dream wedding and let their emotions dictate their spending," she says. "Oftentimes, this means they spend more than they budgeted for and take on debt — which can put a strain on their relationship and future goals after the big day is over."
Woroch says that by shopping secondhand, you can save a lot of money — including on your wedding dress and accessories — without skimping on quality. She says that sites like OnceWed.com is a great place to look for secondhand dresses, jewelry, and shoes. "Remember, your wedding is a one-day affair, but debt will linger for years and can keep you from reaching other life goals."
Below, 14 women share how much — or little — they spent on their weddings.