11 Books Like 'Outlander' To Help You Escape Modern Day Drama For A While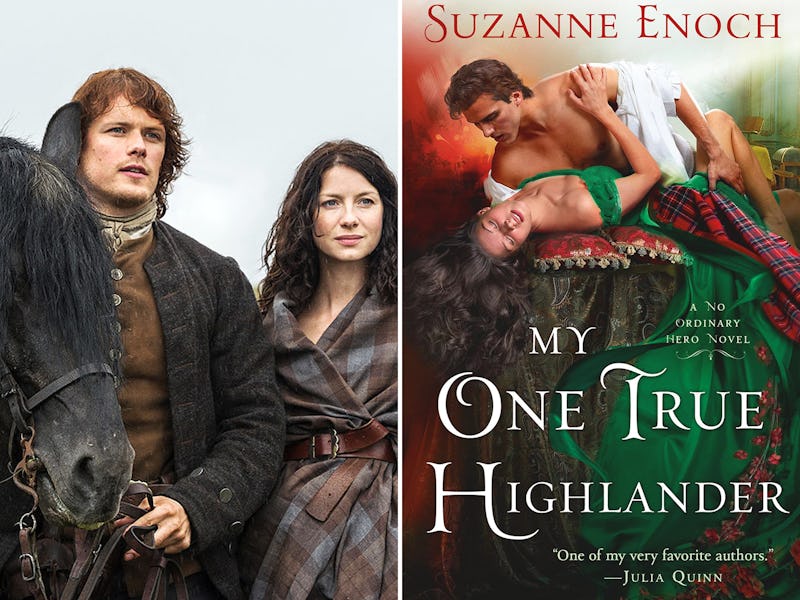 Starz
Time to dig out your stretchiest pants, practice your speech about cultural appropriation, and rehearse an answer for the inevitable question, "So what are you doing with your life?", because Thanksgiving may be over, but the family-filled holiday season is officially here. If you would rather to spend the next month reading instead of having heated political debates — or worse, forced conversations about the future — with your family, make sure to pick up one of these books like Outlander to help you escape the news cycle and get lost in the past this joyous but stressful season. Nothing tells your family "Don't talk to me" quite like a long book and a resting bitch face.
Now a critically acclaimed and commercially successful series on Starz, Outlander is also the title of the first installment of Diana Gabaldon's wildly popular book series-turned-franchise. Originally published in 1991, it introduces readers to the time traveling adventures of British nurse Claire Randall and her one true love, a gorgeous and fierce Highland warrior named Jamie Fraser. An electrifying blend of historical fiction, romance, fantasy, and mystery, Outlander was only the beginning of a literary sensation that has since taken over book clubs and television screens around the world.
The series, and later the show, hooks readers on its particular brand of fantasy, romance, and escapism, and who can blame them for getting swept up in the story's incredible action, heart-thumping romance, and thrilling time-traveling twists? Rich in detail an emotionally evocative, Gabaldon's series gives readers a vehicle in which to escape their own world and enter another one entirely.
If you've already blown through the Outlander series and are all caught up on current episodes of the show, try one of these 13 new historical fiction, romance, and fantasy novels perfect for Gabaldon fans.