The Best British Films To Watch On Your Next Date For Guaranteed Good Vibes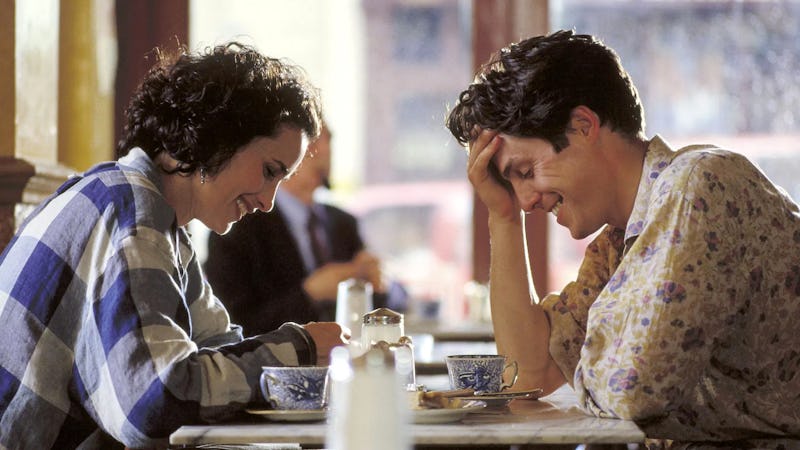 Universal Pictures
While it can be nice to, y'know, go out and do stuff on a date, sometimes it is nice to just do nothing. To submit to the temptation of the sofa. To enjoy a bottle of Pinot Noir and a shared bag of sweet and salty popcorn (or to have a bag each). And of course, to settle in with a good film. Luckily, there are lots of great British films to watch on a date, and I've rounded up the top picks here.
First things first, films are a great option for a date because they work as a catalyst for conversation, acting as a sort of date prop. But picking a good date film can be a dicey business: you don't want anything too schmaltzy, too sad, or too dumb. You want something that might demonstrate your general refinement in this way. Something that might show you have taste and elegance. While we can all just whack on Legally Blonde for the thirtieth time, why not take the opportunity to peacock your esoteric knowledge of classic British cinema?
From little-seen independent oddities through to some contemporary and resounding classics, all of these British films are sure to impress any discerning date. And if the date transpires to be a dud, then at very least, you'll have a good film to watch. So get comfortable and settle in for the evening, because these are some of the best British films to watch on a date.
My Beautiful Laundrette
If you're looking for something cerebral for your date, then this iconic British film might be the one. My Beautiful Laundrette follows Omar (Gordon Warnecke) as he is given a run-down launderette by his uncle who hopes he might be able to make a success out of it. While nearly being attacked by a group of right-wing punks, Omar recognises his former lover Johnny in the gang, and they resume their relationship, working at the launderette together. The film is a study in the conflicts of modern British society, and exploration of the nuances of identity politics, with an ultimately hopeful message.
Click here to stream My Beautiful Laundrette on Amazon.
The Red Shoes
Set in the South of France and based on a Hans Christian Andersen fairytale about a pair of enchanted ballet shoes, The Red Shoes is a roundly magical and delightful bit of escapism. Vicky Page (Moira Shearer) is a dancer torn between her love of ballet and her burgeoning affections for an alluring young composer Julian Craster (Marius Goring). With some stunning dance sequences and a hypnotic score, it routinely shows up on "the best films of all time" lists, and will make for a fun and dreamy date film.
Click here to stream The Red Shoes on Amazon.
Four Weddings And A Funeral
Perhaps not the most inventive or original choice for a date film, but the classics are classics for a reason. Foppish British Charles (Hugh Grant) meets sassy American Carrie (Andie MacDowell) and they hook up. Charles worries it might be a one-night-only thing, until their paths keep crossing. There is much to love about Four Weddings And A Funeral: the rapid-fire dialogue, the '90s haircuts, Wet Wet Wet on the soundtrack, just about everything that Andie MacDowell wears. Also, it will get you duly primed for the Mindy Kaling remake, recently picked up by Hulu.
Click here to stream Four Weddings And A Funeral on Amazon.
The Duke Of Burgundy
It is hard to think of more visually lush and roundly sensual film than The Duke Of Burgundy. Peter Strickland's melodrama exists in a world in which there are only women, and everyone's obsessed with butterflies. The film opens as Evelyn (Sidse Babett Knudsen), a young woman, arrives to clean what appears to be her boss Cynthia's home (Chiara D'Anna), but transpires to be a complex erotic game, and the film asks lots of interesting questions about power, domesticity, and intimacy. It will make for a talking point, at the very least.
Click here to stream The Duke Of Burgundy on Amazon.
Monsters
Monsters is a vastly underrated British science fiction film that is set years after a NASA probe crash in Mexico. The disaster has led to the appearance of enormous tentacled monsters, roaming around what is called the "infected zone," destroying buildings and generally being a nuisance. Photojournalist Andrew (Scoot McNairy) is tasked with escorting his employer's daughter across the zone and would you believe it, they fall in love. It is a high-paced but very stylish take on the monster genre, plus you can save the sequel for the next date.
Click here to watch Monsters on Netflix.
Submarine
Submarine is Travel Man star Richard Ayoade's directorial debut, based on the eponymous novel by Joe Dunthorne. Centred around the life of the hermetic and unpopular Oliver Tate (Craig Roberts), the film follows Oliver as he tries to find his place in the world. Oliver is obsessed with fellow classmate Jordana, and preoccupied by the state of his parents' marriage. Acidic and dry, but with an undeniable tenderness, Submarine is quite like a Wes Anderson film, albeit with a very British sensibility, in the same mold as The End Of The F****** World.
Click here to stream Submarine on Amazon.
Don't Look Now
Perhaps not the most obvious choice given that the film is fundamentally about the guilt of married couple John and Laura Baxter (Donald Sutherland and Julie Christie) over the accidental death of their child, but Don't Look Now is at least set in the romantic city of Venice. Laura meets two psychic sisters who claim to be in touch with the daughter's ghost, and the couple are dubious, until they spend an evening chasing around the winding streets of Venice, searching for flashes of her iconic red coat. It also features one of cinema's most talked-about steamy scenes, so there is that.
Click here to stream Don't Look Now on Amazon.
Peeping Tom
Horror films are great for dates, according to science: because of a neurological process in which your body's fear response is confused with your body's response to being turned on. And there are fewer great British horror films than the chilling '60s Michael Powell film Peeping Tom. About a film studio hand who moonlights as a serial killer with a predilection for filming women, this eerie and stylish film has attained cult status, and as a date film, well, it is certainly something neither of you will forget.
Click here to stream Peeping Tom on Amazon.
Kidulthood
Focused on a group of teenagers at a West London school, Kidulthood is the first film in Noel Clarke's gritty trilogy. The group takes drugs, hooks up, and engages in criminal behaviour before an event tears them out of their youth, forcing them to reckon with their future. Controversial on release, the film was eventually critically praised for offering insight into a London not often shown on film. Kidulthood was also lauded on social media and in the press for its grime-heavy soundtrack, featuring the likes of Dizzee Rascal, The Streets, and Shystie.
Click here to watch Kidulthood on YouTube.
In The Loop
An old-fashioned comedy is always a good pick for a date. It'll put you at ease and in high spirits, plus laughter releases endorphins, which are the brain's happy hormones. In The Loop is the absurdly fast-paced satirical comedy, sending up English and American politics, spun-off from the British sitcom The Thick Of It. It is guaranteed to furnish you and your date with a collective well of quotes and callbacks to draw from on future dates.
Click here to stream In The Loop on Amazon.
A Life Less Ordinary
Edgy romantic comedy A Life Less Ordinary is one of acclaimed British director Danny Boyle's early films: about a pair of angels, played by Holly Hunter and Delroy Lindo, who are tasked with ensuring couples fall in love, they oversee the romance of spoiled rich girl Celine Navile (Cameron Diaz) and janitor Robert Lewis (Ewan McGregor). Their romance is off to a rocky start when Robert, ahem, kidnaps Celine, but they soon put the messy business behind them, duly falling in love.
Click here to stream A Life Less Ordinary on Amazon.
And there you have it: the best British date films for every taste, mood and interest. Now don't forget to warm up the popcorn and let the wine breathe.