There's No Way Jax Actually Quit SUR — Here's The Proof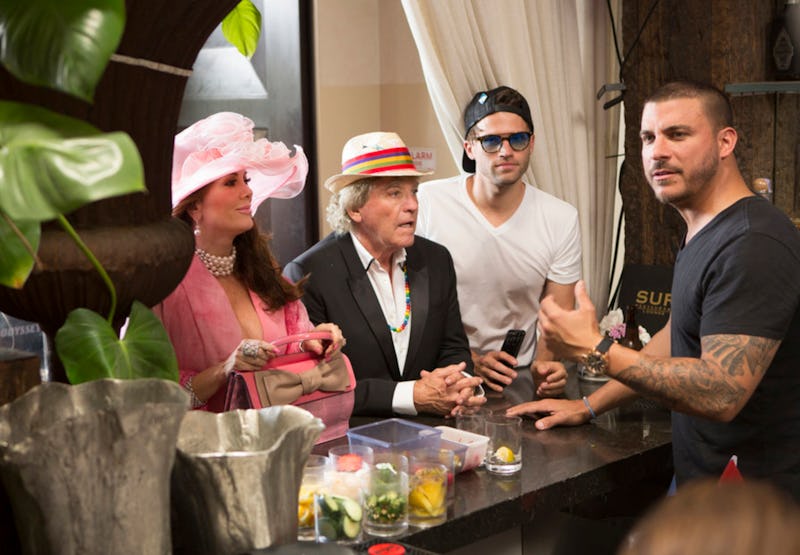 Isabella Vosmikova/USA Network
In what might be the least surprising Vanderpump Rules twist of all, it looks like Jax Taylor did not take that hockey job in Tampa. Oh, and he did not leave Los Angeles. And finally, there are clues that Jax may still work at SUR. The robot bartenders have yet to get the best of him.
A few episodes ago, Jax told girlfriend Brittany Cartwright that he received a job offer. The position would involve hockey, social media, client relations, marketing, and relocating to Florida— all things Jax was jazzed about. Brittany, on the other hand, was not exactly keen on the idea of moving across the country. Even so, Jax seemed ready to throw his electronic drum kit, cooler scooter, and healing stones in a U-Haul and hit the highway.
If the Great Stassi Schroeder Exodus of 2014 proved anything, it's that long distance and Pump Rules go together like a container of beer cheese and a plate of SUR's seared ahi tuna. It doesn't work. So, if Jax were to take the job and move to Tampa, he would probably end up pulling a Lauren Conrad and leave the reality TV masterwork he helped build. It'd be a bitt-SUR-sweet change for all.
But again, there's no need to worry: Jax is still in Los Angeles, he probably didn't take that social media/client relations/marketing role in Tampa, and he's still spending time at Ye Olde Sexy Unique Restaurant. Here are some clues that suggest Jax has kept things as is.