11 Costumes You Can Still Order In Time For Halloween, Because Procrastination Is Real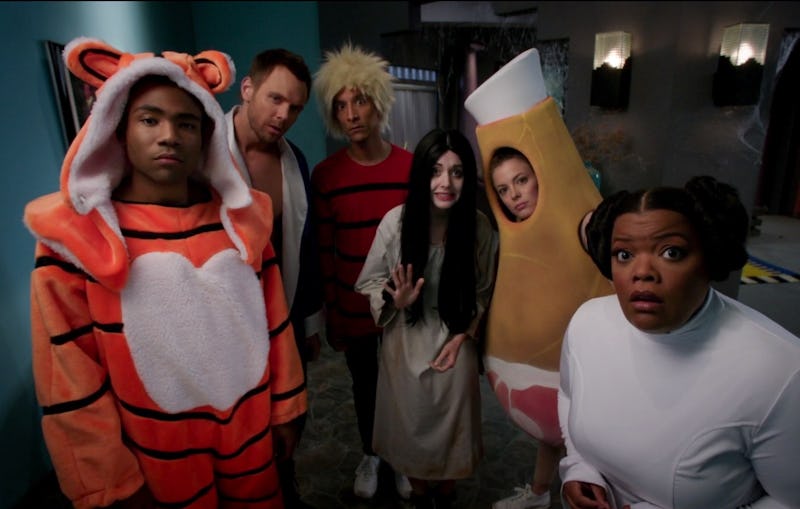 Sony Pictures Television
If you're all about that last-minute life, your Halloween costume probably usually ends up being some half-assed attempt at a pop culture reference — or, you've been a cat every single year since you were a child. No judgment, of course; I know that life because I live it. My cat ears date back to 1994 — no joke. It's not that you don't care about finding a creative Halloween costume idea, it's just that the best ideas are always harder to orchestrate than basic ideas and I'm a dedicated procrastinator.
This year, you'll probably consider getting ahead of the game and start planning super far in advance. But sure enough, you'll drop the ball. Life just comes up and Halloween seems less and less important to focus on. And then it will be the last week in October and you'll be shook by the arrival of Halloween and the fact that even though you had great intentions, you never actually pulled through with a complete costume. It's fine, there are more important things to worry about.
So because you clearly don't have any time to start brainstorming all over again, here are some last-minute costume ideas for those of you who want to look like you're creative and care about the holiday, but really just can't seem to get it together. They won't look last-minute, and that's all that matters, amirite?
Mary Poppins
Tote Bag, $27, Zaful | School Girl Shirt, $4, George | Box Pleated Skirt, $18, Shein | Red Leather Belt, $30, Macy's | Silk Bowtie, $40, House of Fraser | Umbrella, $26, Lord & Taylor | Bowler Hat, $29, ASOS
With the movie remake well on its way, this costume is totally relevant again! Get ahead of the buzz with this cute and classy get up.
Rosie The Riveter
Denim Zip Romper, $40, Madewell | Rosie Patch, $2, Amazon | Cream Red Lipstick, $21, Macy's
This costume never goes out of style. Plus, you totally have these pieces in your closet already. You'll need a denim top, a red bandana for your hair, some red lipstick, and some real Rosie patches to if you want to make it more obvious.
Wednesday Adams
Vintage Leslie Dress, $59, Top Vintage | Wednesday Adams Braids, $12, Doll Kill
It's dark, it's cute, it's so recognizable. Classic Halloween charmer. All you need is a black dress with a white collar, and some braids.
Annie Hall
White Blouse, $30, Chicwish | Khaki Trousers, $80, Madewell | Sweater Vest, $23, Zaful | Necktie, $8, Amazon | Bowler Hat, $16, Shein
This adorable costume will inspire you to be extra awkward this Halloween... but you know, in an endearing way.
Bachelor Contestant
Prom Dress, $63, Oasap | Silk Red Rose, $14, Amazon | Bronzer, $9, Miss Selfridge
You've got a nice dress in your closet right? Something you wore as a bridesmaid but will never see the light of day again? Whip it out for Halloween and add a rose!
Ziggy Stardust
Cut-Out Jumpsuit, $59, House of Fraser | Bowie Wig, $50, Etsy | Rainbow Platforms, $44, Dolls Kill | Ziggy Bolt, $47, Harrods
Got a jumpsuit? How 'bout some platforms? Add a crazy blond wig and you're good to go. Don't forget to add some lightning bolt flair.
'90s Supermodel
Classic Blue Jeans, $14, Miss Selfridge | Black Heels, $13, Pretty Little Thing | Cropped White Tank, $4, Pretty Little Thing | Brown Lipstick, $27, Bobbi Brown
Despite the fact that this look was mostly famous for a Pepsi commercial with Cindy Crawford, it totally encapsulates the whole concept of easy breezy '90s glam.
Scream Queens
Faux Fur Coat, $21, Amazon | Pink Bow Blouse, $37, Chic Wish | Plaid High Waist Skirt, $30, Pretty Little Thing | Knee High Stockings, $7, Kohls | Fuzzy Loafers, $35, Shein | Retro Glasses, $30, Smart Buy Glasses
Gather all your pinks and your strongest resting bitch face.
Sandra D From Grease
Black Faux Leather Jacket, $100, Topshop | Black Crop Top, $8, Pretty Little Thing | Black Skinny Jeans, $65, Topshop | Sandy Wig, $9, Amazon | Black Heels, $23, Steve Madden
Personally, I'd like to dress like this everyday, so it's totally worth it to get a few extra pieces to really bring this look together.
Empire Records
Blue Plaid Skirt, $32, Chic Wish | Brown Lace Up Boots, $39, Charlotte Russe | Cropped Sweater, $17, Pretty Little Thing
Comfortable, cute, and oh so '90s. Carry around some records, or wear a walkman to really drive it home.
Ghost
White Sheet, $30, Saks | Scissors, $13, Trouva
Any other year this might seem lazy, but with the release of the new movie A Ghost Story, it's totally relevant again. And honestly, what's easier than cutting some holes in a sheet and throwing it over your head? Nothing.
Check out the entire 'What's Up, Boo?' series and other videos on Facebook and the Bustle app across Apple TV, Roku, and Amazon Fire TV.