11 Actually Funny Halloween Costume Ideas That Will Get Real Life LOLs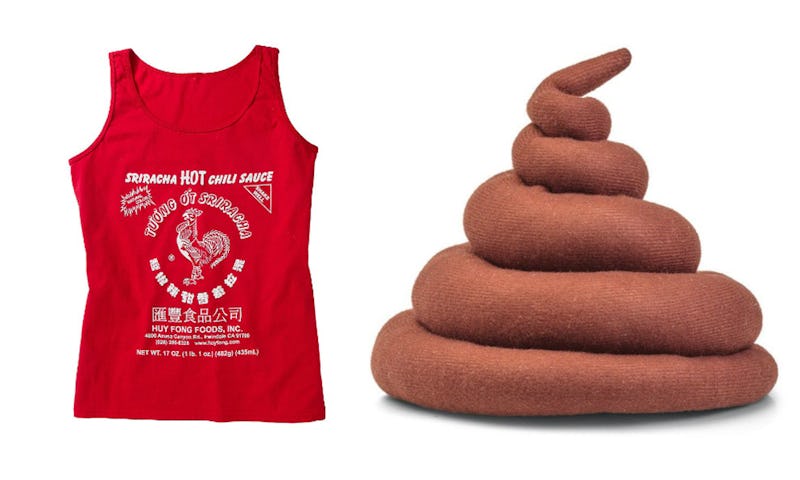 Party City; eBay
Most people I know will be going one of two routes on Halloween: Scary or sexy. Some people love to take advantage of Halloween's gore factor with fake blood, terrifying masks, and all around haunting costumes. Others prefer to go with ooh-la-la versions of their favorite characters or celebs as a fun excuse to get super dolled up. You know the drill. All of this is great, but sometimes you just want a good laugh. But this holiday is also an amazing excuse to be silly, fun, and not take yourself too seriously by wearing a funny Halloween costume. I mean, how often do we get to dress up in whatever outrageous costume we feel like and hit the town? If I'm gonna do it, I want to have fun and get some good laughs in, too.
So while everyone else is rocking the Halloween same ol' same ol' in the form of Scream masks and sexy little red riding hood costumes, you'll be having a fun and silly time in a witty, lighthearted costume that'll actually make people LOL. Your friends are sure to be impressed with your creativity and wit — maybe next year they'll jump on the funny costume train with you!
Check out these unique, funny, tongue-in-cheek costume options you can easily throw together DIY-style.
Treasure Troll
Blue Pointed Wig, $16.99, Spirit; Women's Long Sleeve Scoop Neck Cotton Unitard, $45.97, Walmart; Extra Large Loose Acrylic Jewels, $8, Etsy.
Who doesn't love a Treasure Troll? These babies lined all my shelves as a child. It's kind of hilarious looking back — naked little creatures with round butts, jewels for bellybuttons, and a rainbow-hued poof of hair — why were these so popular? Anyway, still love 'em, and you can easily rock the look of this silly childhood fave on Halloween. Just attach a giant gemstone to the bellybutton of your bodysuit and you're good to go.
Poop Emoji
Lace Up Swing Dress, $12.90, Forever 21; Poo Hat, $6.77, eBay; Googly Eyes Glasses, $8.99, Retro Planet.
Poop emoji, but make it cute. That's exactly what this costume somehow accomplishes. A poo-themed hat plus a cozy brown dress and the classic emoji-style googly eyes will make you easily recognizable as everyone's favorite emoji. Don't forget to smile!
Cookie Monster From Sesame Street
Adult Sesame Street Cookie Monster Headband, $6.90, Wholesale Halloween Costumes; Royal Blue Shaggy Faux Fur Coat, $54, AliExpress.
Keep it classic and silly all at the same time with this super-simple Cookie Monster get-up. Grab your fuzziest blue top and pair with this Cookie Monster eyeball headband, and you're instantly recognizable as everyone's favorite Sesame Streeter. And yes, this does mean you should carry around a box of cookies and much on them all night, thanks for asking.
Censored Content
Censored Women's Organic T-Shirt, $30.49, Spreadshirt; Censored Leggings, $40, Redbubble.
Too hot for Halloween? Sensitive viewers beware? Nah, who needs a risqué getup when you can get away with wearing leggings and a t-shirt as your Halloween costume and still be funny. Now that's a win.
A Caticorn
Claire's Club Rainbow Glitter Cat Ears Headband, $6.99, Claire's; Unicorn Horn Headband, $3, Party City; Fuzzy Knit Sweater, $22.90, Forever 21; Rainbow Glow Leggings, $11.97, ModCloth.
It's a unicorn! Wait, no, it's a cat! Wait... what? That's right: It's a caticorn. Be the best of both worlds by dressing as the the most mystical of all mythical creatures, a hybrid between two magical and elusive animals that the entire internet seems to be collectively obsessed with at all times.
Ilana In A Dog Hoodie From Broad City
Flex Fleece Large Dog Zip Hoodie, $18, American Apparel; Denim Shorts In Gray Denim, $17.99, H&M.
Remember that iconic episode of Broad City where our beloved Ilana wears a red dog hoodie to work and subsequently destroys said career? Yeah, me too, cause it's amazing. Recreate her slightly outrageous look with a literal dog hoodie and pair of shorts. Don't forget to pull your pigtails through the ear holders. All hail queen Ilana.
Purple Rain
TopTie Lace Umbrella Parasol, $17.99, Amazon; Forever Young Women's Short Shaft Rain Boots, $19.99, Walmart; Purple Metallic Fringe, $5.99, Oriental Trading; Into The Night Purple Skater Dress, $49, LuLu's.
Pay homage to music legend Prince with this DIY purple rain costume that's both fun and very punny (just in case you prefer your jokes — and Halloween costumes — in the form of puns). Attach the metallic fringe to the rim of your umbrella shade for a true purple rain effect. You'll look dreamy, plus you'll be ready for any potential Halloween storms.
Deb From Napoleon Dynamite
Plus Size Hasting & Smith Short Sleeve Stripe Pique Polo, $6.99, Boscov's; Fifth Avenue Fanny Pack, $17, Jansport; Pepperell S'getti Strings Neon Plastic Lacing Kit, $8.99, Amazon; Large Velvet Hair Scrunchie, $4.99, Claire's.
My favorite awkward comedy ever gave us one of the sweetest albeit fashion-challenged characters: Deb. Tie up that side pony with a scrunchie, grab your box of lanyards, and start selling the heck out of those glamour shots.
Paris Hilton Circa 2000s
Women's Juicy Couture Graphic Velour Hooded Jacket, $54, Kohl's; Abercrombie Denim Mini Skirt Frayed, $12, Poshmark; LIONWAN Aviator Sunglasses, $19.99, Amazon; NWT Bling Rhinestone Crown Trucker Hat, $22, eBay.
Ah, remember the days of rhinestone-encrusted denim flares, velour track suits, Sidekick and Razr phones to text all your friends with, and The Simple Life on TV? Good times. Pay homage to our favorite socialite, Paris Hilton, with this very 2000s costume. Bonus points if you can find a plush chihuahua to stick in your purse.
Log Lady From Twin Peaks
Surreal H-1 Horizontal Log Planter, $19.98, Amazon; Lovezesent Women's Geometric Knit Oversized Cardigan Sweaters, $28.99, Amazon; TIJN Vintage Non-Prescription Glasses, $12.99, Amazon.
Log Lady: The true star of Twin Peaks, in my humble opinion. Dress up as everyone's favorite log-loving, soothsaying, Twin Peaks-dwelling character. Sure, we've seen the Laura Palmers wrapped in plastic, but Log Lady's outfit is so much more cozy and chill, and a lot funnier than a dead Laura, if I don't say so myself.
Sriracha Sauce
Sriracha Tank Top Costume Kit, $12.99, Party City; Ruffle Wrap Skort, $17.90, Forever 21.
Become the living embodiment of your favorite condiment ever, the holy Sriracha hot chili sauce. I do recommend carrying around an actual bottle of Sriracha if you go out on Halloween like this, though — I mean, you've got to live up to your costume, and you never when you or someone else will need some.