11 Incredible Ways Texas Came Together During The Hurricane Harvey Aftermath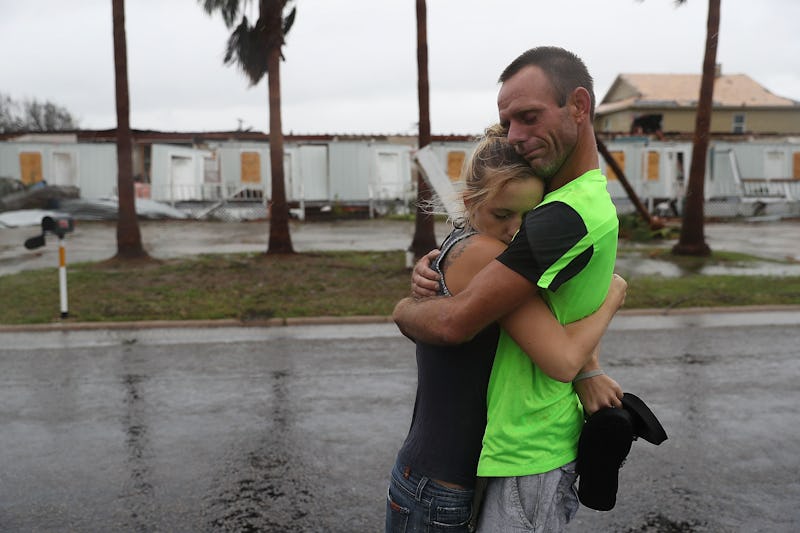 Joe Raedle/Getty Images News/Getty Images
In the most difficult times, people are most compelled to rise to the occasion, and we see strangers banding together to help each other — so it's no surprise that terrible devastation caused by Hurricane Harvey would result in truly touching moments of heroism. There are so many incredible ways Houston came together, it gives those of us watching hope for people who still have to ride out the rest of this terrible storm.
On Friday, Hurricane Harvey made landfall in Texas, and for the next two days heavy rain, wind, and flooding thrashed coastal areas like Corpus Christi, Houston, and Galveston. By Sunday, five people had died as a result of the storm, and more than a dozen were injured. Emergency services struggled under the enormous amount of requests for aid, hospitals were forced to evacuate patients when power went out, and people who were driven from their homes due to rising floodwaters were in search of shelter.
Amidst these terrifying circumstances, real instances of heroism and bravery came to light. Every day citizens worked to help those less fortunate, whether by rescuing people trapped by high waters, providing shelter or even taking to kayak to make sure worshipers had their Sunday mass. Here are 11 moments where the citizens of Houston, and beyond, came together to get through the storm.
1. TV Crew Saves Truck Driver's Life
In an incredible instance of being at the right place at the right time, KHOU reporter Brandi Smith was able to flag down a sheriff's boat to rescue a man stuck in the cab of his truck, which was quickly filling with water. The truck was on a road below a highway, out of sight of the emergency responders traveling on the highway. If not for Smith's quick thinking, this story could have had a very different ending.
2. SWAT Officer Carries Mother & Baby To Safety
This photo of a SWAT officer carrying a mother and her infant son through the floodwaters is just one of the many acts of bravery seen in the aftermath of Harvey.
3. "I'm Going To Try To Save Some Lives."
This man tells a reporter he came from Texas City, near Galveston, with his boat, and that he was there to "try to save some lives." The people who charge into the danger are nothing short of heroes.
4. "This Is What We Do"
This young man tells a reporter that he and some others are taking kayaks out into the water to see how they can help those stranded. When asked why he felt the need to do this, he simply replies, "We're in the United States Army — this is what we do."
5. Matress Maven Provides Shelter
Jim McIngvale is known in Houston as Mattress Mack, the owner of Gallery Furniture — his commercials have made him a local celebrity. McIngvale got on Facebook Live on Sunday to let people know that he opened up the doors of his stores for anyone seeking shelter. He told people he had beds, food and that they could even bring their pets.
"We're all in this together," McIngvale said, and that Texans are strong and would get through this storm.
6. Sunday Mass Must Go On
Father David Bergeron reportedly used a kayak to flee his home, and was planning to hold mass for people out on the streets on Sunday. The Catholic priest even tried to buy wine to use in his impromptu service, but he couldn't because alcohol sales are prohibited in Texas on Sunday before noon.
7. Twitter Pleas Get Seniors Rescued
Tampa resident Timothy McIntosh took to Twitter in an effort to get rescue crews to the nursing home that his mother-in-law owns. His plea worked, and 18 people were reportedly airlifted out of the nursing home, according to Dickinson, Texas, emergency management co-coordinator David Popoff.
8. Teens Make Rescues In Their Boat
They may not be able to legally drive a car, but these teens took to the water to rescue people stranded by floodwaters, as documented by Houston Chronicle photojournalist Mark Mulligan.
9. Don't Forget About The Pets
This man was seen on local news carrying crates of pets through the flooded streets. Surely all animal-lovers can appreciate this brand of heroism.
10. The Cajun Navy Is On The Way
It's not just Texans who are coming together to help those affected by Hurricane Harvey. The Cajun Navy is a group of volunteers who coordinate rescues by boat when there are devastating floods in and around Louisiana, and according to their Twitter page and other reports, they have been given the go-ahead to head to Texas to assist with rescue efforts.
11. FDNY Looks To Pay It Forward After Sandy
New York City has felt the generosity and support of people across the country during such devastating events as 9/11 or Hurricane Sandy, so it's only natural that the city's Fire Department would be quick to lend a helping hand to others in need. A group of Red Cross workers and retired FDNY firefighters were en route to Houston on Sunday, armed with supplies to distribute to those affected by Harvey.
While it's hard to watch the devastation being suffered by Texans right now, a small comfort comes from seeing these heroes, and knowing that good people will never stop helping others in the face of adversity.