11 Subtle Signs Of Scoliosis You Need To Watch Out For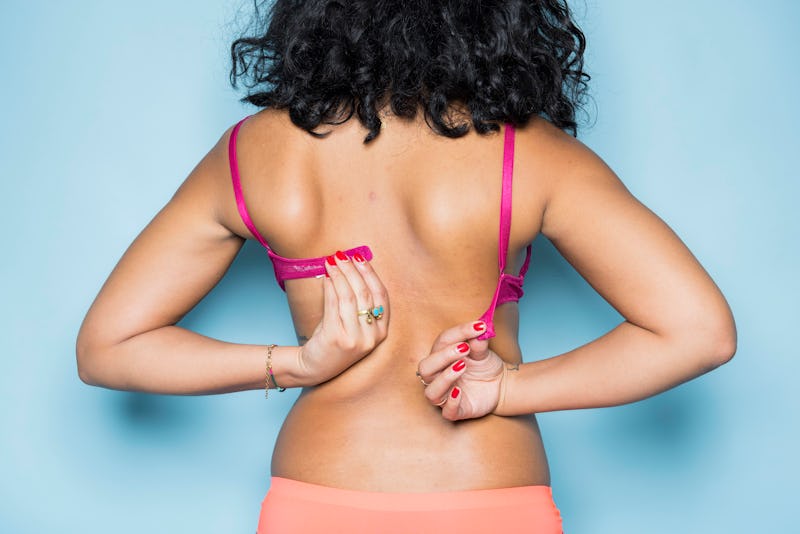 BDG Media, Inc.
You'd think back pain would be the most obvious sign of scoliosis, but there are plenty more subtle, seemingly unrelated symptoms to watch out for, too. Most of them don't seem like a big deal, on paper. But since a curvature of your spine can impact the rest of your health by throwing your whole body out of alignment, experts say paying attention these potential signs is important.
"Scoliosis is ... a term used to describe a spinal deformity, which presents as a sideways curve in the spine," Neel Anand, MD, professor of orthopaedic surgery and director of spine trauma at Cedars-Sinai Spine Center, tells Bustle. "A [typical] spine is perfectly vertical, as if a line was drawn with a ruler on a piece of paper. But when scoliosis occurs, the spine can curve both ways, creating an S shape."
Some people with scoliosis have a mild case, and thus don't notice a curve, or any resulting symptoms. But if your curve is more severe, it can lead to pain, discomfort, walking issues, and even breathing issues. If you notice any of the subtle symptoms below, talk with your doctor. They will do an X-ray to determine if you do, in fact, have scoliosis, and prescribe some helpful treatment options from there.