What To Know Before You Try An At-Home Peel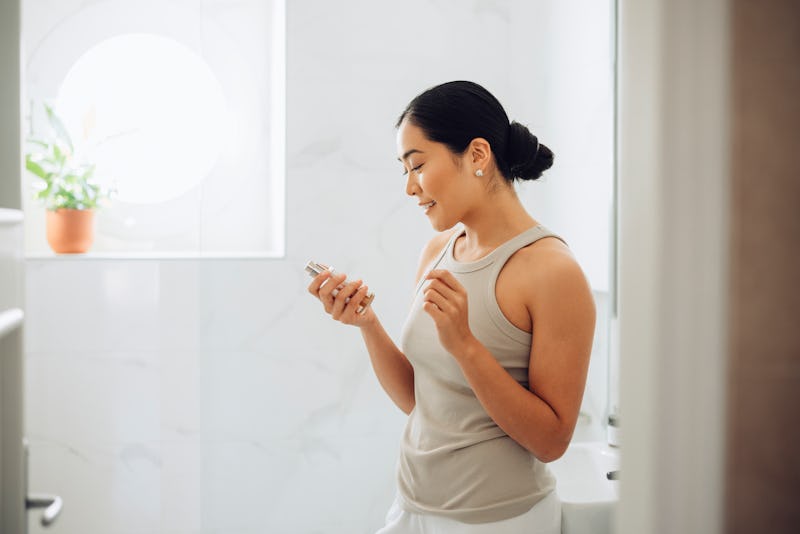 miniseries/E+/Getty Images
When you need to renew and resurface your skin, a peel is a great option. Because professional, chemical peels are kind of notorious for leaving your skin red and raw though, trying an at-home peel may be a bit scary. How much and what kind of ingredients should you use to make sure you don't over-do it? And is it supposed to feel like this? To find out the best way to practice this at-home, super exfoliation, I emailed with a couple of experts.
Jordana Mattioli, NYC-based esthetician, and Dr. Clarissa Shetler and Dr. Christine Falsetti, founders of C2 California Clean, revealed everything you need to know before trying an at-home peel, so you won't have to worry when you do one for the first time. According to Mattioli, at-home peels will exfoliate top layers of cells to help with skin concerns like clogged pores, breakouts, dull skin, and dry skin. And using the right type of peel at the right frequency will result in benefits like smoother skin, healthier skin, reduced pigmentation, and reduced fine lines. What's not to like about that? Before you add this step to your skin-care regimen though, here are 11 things to know so you can reap the benefits without the irritation:
1. You May Not Even Need A Peel
Try: DDF Glycolic Toning Complex, $43, DDF
It's always best to err on the side of caution when incorporating acids into your skin-care routine. So if you already use an AHA or BHA daily, Mattioli says you can probably skip an at-home peel.
2. Be Careful If You Use Retinoids
Try: Philosophy The Microdelivery Peel Kit, $40, Philosophy
According to Mattioli, prescription-strength, vitamin-A products and peels don't mix. If you use a prescription retinoid, she recommends avoiding even a low-strength peel as it could cause major irritation. If you want to add a peel to your regimen, be sure to talk to your dermatologist first.
3. A Skin Test Is Best
Try: Peter Thomas Roth Firmx Peeling Gel, $48, Peter Thomas Roth
Especially if you have sensitive skin, it's best to test a peel before slathering it all over your face. So you know how your skin will react, Mattioli suggests doing a patch test on a small area of skin before applying a peel for the first time.
4. The Best Acids For Your Skin Type
Try: Drunk Elephant T.L.C. Sukari Babyfacial, $80, Sephora
If you have dry or sun-damaged skin, Mattioli says to look for an AHA peel with a concentration between 5 and 25 percent and a pH between 3 and 4. Types of AHAs to look for include glycolic, mandelic, malic, and lactic acids. If you have oilier or breakout-prone skin, Mattioli says to look for a peel with a combination of AHA and BHA, as salicylic acid (BHA) is typically better for these skin types.
5. You Can Try DIY
If you prefer DIY skin-care options, Drs. Shetler and Falsetti reveal that you can make a chemical face-peel at home. They suggest using ingredients such as fruits, vegetables, milk, and yogurt as these have exfoliating AHAs and enzymes. However, they warn against using ingredients like rubbing alcohol, menthol, peppermint, and other harsh chemicals or oils as these will only irritate your skin.
6. Stick To Once Or Twice Per Week
Try: Algenist Genius Ultimate Anti-Aging Bi-Phase Peel, $85, Algenist
While you should always follow the instructions of any at-home peel, Mattioli instructs that peels generally should not be used more than once or twice per week to avoid irritation.
7. Pink Skin Is Normal
Try: The Ordinary AHA 30% + BHA 2% Peeling Solution, $7, The Ordinary
Because a peel exfoliates the top layer of skin cells, experiencing a tingling sensation or pink skin while the peel is on is totally normal, says Mattioli. In fact, skin may even remain slightly pink for a few hours following a peel. So if you experience this, no worries.
8. Try An Irritant-Free Version
Try: Derma-E Overnight Peel, $19, Derma-E
For some added benefits with your peel, try an option that is free from irritants and contains antioxidants or even anti-irritants, suggests Mattioli. For example, if you need a little extra moisture, try a peel that contains plant oils along with acids.
9. Moisturize, Moisturize, Moisturize
Try: C2 California Clean Ultra Replenishing Oil Squalane + Vitamin E, $88, C2 California Clean
After a peel, moisturizing is a necessary step, Drs. Shetler and Falsetti say. Because exfoliating exposes new, more sensitive skin, it's important to protect it with a hydrating barrier. Try using a face oil and/or your favorite night cream.
10. Never Exfoliate Post-Peel
Try: Joanna Vargas Euphoria Face Mask, $75 for 5, Violet Grey
"Exfoliating your skin post-peel is a huge no-no because it can cause severe irritation to your skin, and in some cases, even scarring," say Drs. Shetler and Falsetti. Yikes. Because a peel is supposed to help your skin shed, harsh products can interfere with the process and damage your skin, they explain. So right after a peel, stick to gentle products.
11. Always Wear Sunscreen
Try: Blue Lizard Australian Sunscreen Baby, $26, Amazon
While it's best to wear an SPF daily anyway, it's especially important to make sure your skin is protected after a peel. Drs. Shetler and Falsetti explain that sun exposure on freshly-peeled skin can cause blotchy patches or skin discoloration. To keep this from happening, they recommend avoiding sun exposure on your face for seven days following your peel, or wearing a sunscreen made for sensitive skin (or babies) so your skin won't become irritated or damaged.
After all, at-home peels can be pretty amazing, as long as you know how to work them into your skin-care routine.
Image: miniseries/E+/Getty Images