11 Things To Stop Saying To Yourself To Stop Anxiety In Its Tracks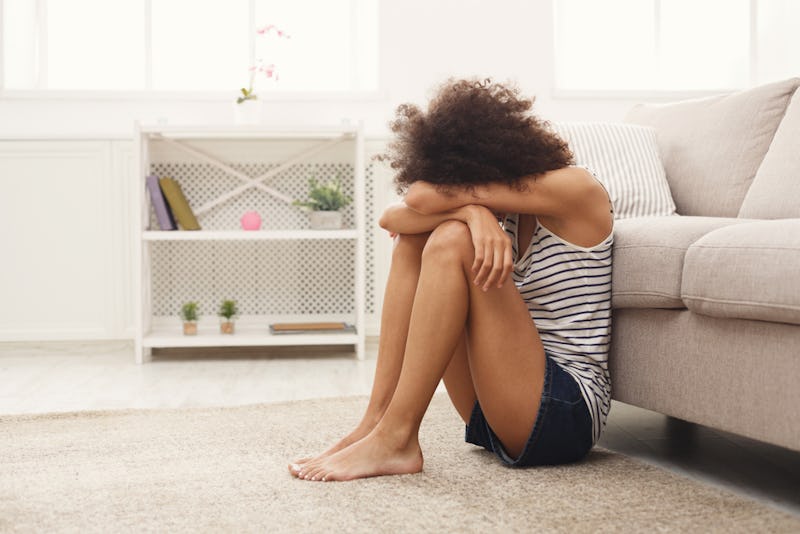 Prostock studios/shutterstock
Anxiety can be a pretty powerful thing, but the things you tell yourself when you're experiencing anxiety can be powerful as well. So it's important to understand how to prevent negative self-talk so that you can stop anxiety in its tracks.
When anxiety gets bad, the voice inside your head can get a bit out of control. So in order to prevent things from spiraling, you can learn to identify some dangerous forms of self-talk. "Self-talk plays a critical role in anxiety," Laura Albers, certified master wellness coach by The International Association of Wellness Professionals and licensed professional counselor, tells Bustle. "[...] Much of our negative self-talk is simply a habit we have learned, but fortunately, we have the ability to break this habit and respond differently." Luckily, you can train to replace a lot of these unhelpful phrases with more helpful self-talk.
It may seem intimidating, but once you pay attention it may be relatively simple to improve. "If you have anxiety, paying attention to the way you think and adjusting your self-talk makes all the difference in shaping your mood," Lily Rahimi, a California licensed marriage and family therapist, tells Bustle. Once you can master some of these skills, you may find it easier to counter your anxiety when it starts to become more difficult to manage.
Here are 11 things to avoid saying to yourself if you want to stop anxiety in its tracks, according to experts.