7 Little Ways Your Brain Lies To You Daily If You Have High-Functioning Anxiety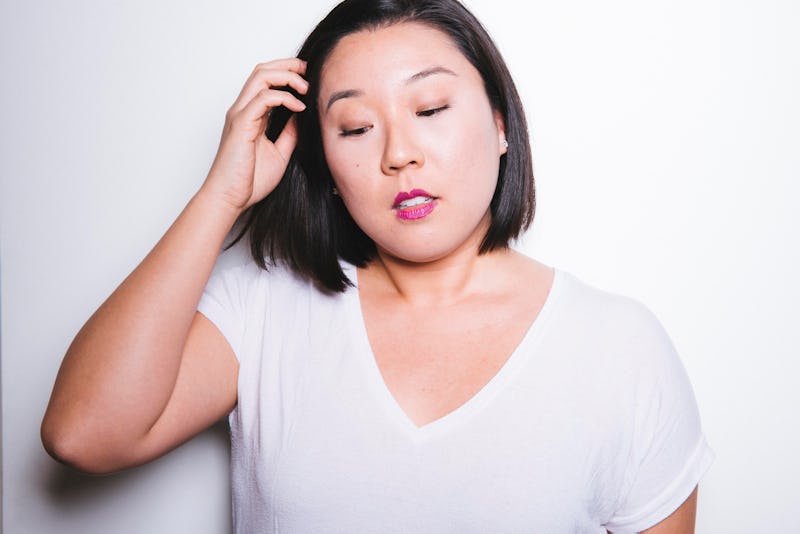 BDG Media, Inc.
You spend your entire life with your thoughts, so sometimes it's hard to tell if your long-term thought patterns are unhelpful. But if you have high-functioning anxiety, chances are your brain is lying to you pretty much constantly. These unhelpful thoughts, called cognitive distortions, filter the world around you into a much scarier place. But once you can identify what common cognitive distortions you are prone to, your anxiety might begin to abate.
Having constant patterns of thinking that tell you reasons to be anxious will likely make your daily life more difficult to get through, even if you function pretty well despite your anxiety. You just may not realize all the ways your brain is filtering your daily interactions into anxiety-bait.
"Cognitive distortions are patterns of thinking that are skewed or biased in an unhelpful way," licensed psychologist Giulia Suro, Ph.D., CEDS, tells Bustle, "... Everyday interactions are experienced through a cognitive lens that distorts it and makes it difficult to be grounded in the present moment." The power behind these thoughts often comes from anxiety. The more anxious you are, the more you may have these thoughts. And the more you have these thoughts, the more anxious you may become.
Having these distorted thoughts is like seeing the world through filtered lenses. "Cognitive distortions ... are always biased in a way that enhances our doubts or fears," Dr. Suro says. "A piece of objective information (e.g. [the coffee shop] barista didn't make eye contact with me) that passes through our cognitive 'sunglasses' all of a sudden becomes a distorted thought (e.g. I must be ugly)." Taking these metaphoric sunglasses off may be a lifelong pursuit, but you can make the filtered thinking less powerful by just realizing it's happening.
Here are seven ways your brain lies to you daily if you have high-functioning anxiety, according to experts.