11 Hacks For Calming Your Nerves Before A First Date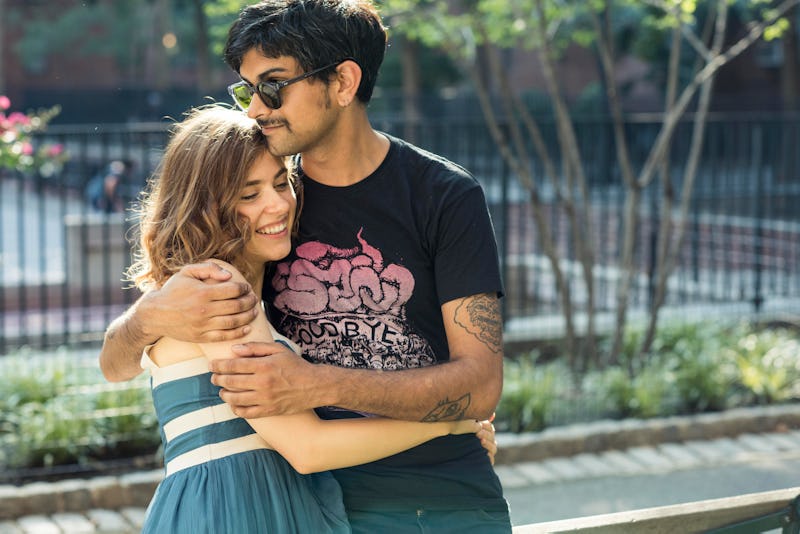 BDG Media, Inc.
While basically everyone has experienced getting nervous on a first date, sometimes the fear of meeting a new person in a romantic setting can be way more intense than the common feeling nervous butterflies. First date anxiety can be totally unnerving, but you need to get through the first date to make it to the second. So it's time to face those jitters head-on.
"First dates are notoriously anxiety producing as there are a significant number of unknowns that may be encountered," psychiatrist Dr. Jared Heathman tells Bustle. "Our mind is incredibly adept at brainstorming worst case scenarios when we encounter unknowns."
Luckily, when it comes to genuine worst-case scenarios, like a dangerous first date, there's a good amount of prep you can do to keep yourself safe. "Many fears stem from safety concerns; choosing to meet in a neutral, very public place ... not in your own neighborhood but still somewhere populated can help to reassure you," therapist and licensed social worker Kryss Shane tells Bustle. "[Once you've got a plan,] remind yourself that, as long as you are safe, the worst case scenario is a first date story bad enough to make your friends laugh. That way, it's a win whether it's great or awful!" If you've been on bad dates before, that prospect can still be intimidating, but it's probably worth the effort to meet someone who you might click with.
Here are 11 things you can do if first dates seriously freak you out, according to experts.