11 Vegan Beauty Vloggers To Follow ASAP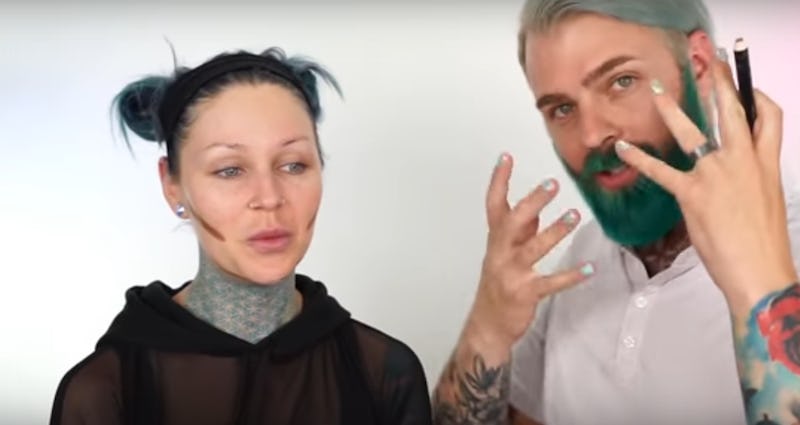 Vegan beauty products are not a new phenomenon, but lately it seems like more and more truly excellent vegan beauty brands are popping up. And luckily, there are plenty of equally excellent vegan beauty vloggers to follow who review those products — in between dishing the deets on everything from their family lives to their vacations to their thrift store hauls.
With notable celebs creating and using vegan products — like Kat Von D's cruelty-free makeup and Hayley Williams's vegan hair dye — along with a wealth of indie cruelty-free creators on sites like Etsy, it's becoming easier and easier to make the switch. Before I became a fashion and beauty blogger, I didn't even realize makeup could be vegan. But as soon as I did, I began to switch the contents of my makeup bags to vegan. I discovered switching over isn't as hard as I expected it to be. Especially because, for product recommendations, I was able to turn to YouTube, where a wealth of vlogger sawaited me with their recs for lippies, hair dyes, blushes, even nail polishes and tattoo inks.
Whether you're into vegan products already or are just dipping in your toes, these vloggers are guaranteed to introduce you to new products, techniques, and inspiration.
1. Kristen Leanne
Kristen Leanne is the co-creator of much-beloved vegan hair dye brand Arctic Fox, which is not only vegan, but donates 15 percent of its profits to animal welfare organizations. As a vlogger, Leanne posts honest reviews of vegan products, shares tips on how to achieve her rad AF hair colors (with Arctic Fox, of course!), and occasionally lets her husband do her makeup. Her husband, BTW, is fellow Arctic Fox co-creator Ryan Morgan, who also shares his favorite beauty products on his Instagram.
2. Teri Miyahira
Teri Miyahira posts weekly videos stuffed with products to try. She does swatches, offers tutorials on looks like this wedding anniversary makeup look, and uploads tons of sneak peeks of vegan beauty boxes, which can be an essential tool for adding to a growing collection of vegan products.
3. Kiera Rose
Kiera Rose is exactly who you're looking for if you like vloggers who are a blend of reviews, tutorials, and frank discussions of what's going on in life. Aside from talking about vegan products, Rose shares chats about what's up with her, posts some sweet "what I ate" vids that spotlight her vegan diet, and, best of all, recently became space dad.
4. Stephanie Lange
Stephanie Lange is a professional makeup artist who shares her beauty faves (and fails), vegan recipes, tutorials like the "frosty rose" look seen above, and sometimes tries wacky beauty products, like what she deems the "scariest lip plumper ever." She's super prolific, and is one of my go-tos for professional tips.
5. Christine Kobzeff
Christine Kobzeff is an all-around vegan vlogger who is the perfect person to subscribe to if you're looking to change over not just your beauty routine, but your diet to vegan. She regularly shares what she eats as a vegan, makes tons of vegan DIY projects, and of course spotlights top-notch products, like she does in her "get ready with me" vid.
6. Jade Madden
I'm a giant horror movie buff, so when I discovered Jade Madden, I knew she was going to be an insta-subscribe. She uses only cruelty-free products to create her wonderfully gory special effects makeup, and when she's not turning herself into the monster of the week, she's trying vegan products and sharing makeovers that don't involve fake blood.
7. xoLoveLeti
xoLoveLeti is a vlogger who "strictly feature[s] animal-friendly products and practice[s] an eco-friendly vegan lifestyle," and with the regular product hauls she posts, her vlogs are sure to give folks an idea of where to source their next vegan beauty BFF products. She also combats fatphobia, which makes her even more excellent.
8. Kicki Yang Zhang
Kicki Yang Zhang is another great vlogger if you're looking for a blend of lifestyle and beauty. She posts "tea time" chats about her life, vegan food deets, shopping/world exploring vids, and of course super rad makeup.
9. Jessica Haze
Jessica Haze is one of the most versatile beauty vloggers I've found. Like Jade Madden, she does SFX tutorials, but she also posts her bold everyday looks and does a metric ton of product reviews. If you're looking for vegan lippies, Haze is who you should be watching.
10. Monami Frost
I started watching Monami Frost because of her smart tattoo videos, but Frost offers content all across the beauty board, like the above "smoky glam" tutorial. She also shares glimpses of her family (including her equally tattooed husband), and talks about their vegan lifestyle.
11. LaMadelynn
LaMadelynn is a must-watch channel for folks interested in both vegan makeup and sustainable fashion. LaMadelynn's vlogs feel like reading a vintage diary, and her passion for cruelty-free products and clothing is enough to make anyone want to give vegan products a try.
Whether you're already a cruelty-free products pro, or you're looking to veganify your routine, these vloggers should be on your to-watch list.