11 Ways To Support PP On Inauguration Day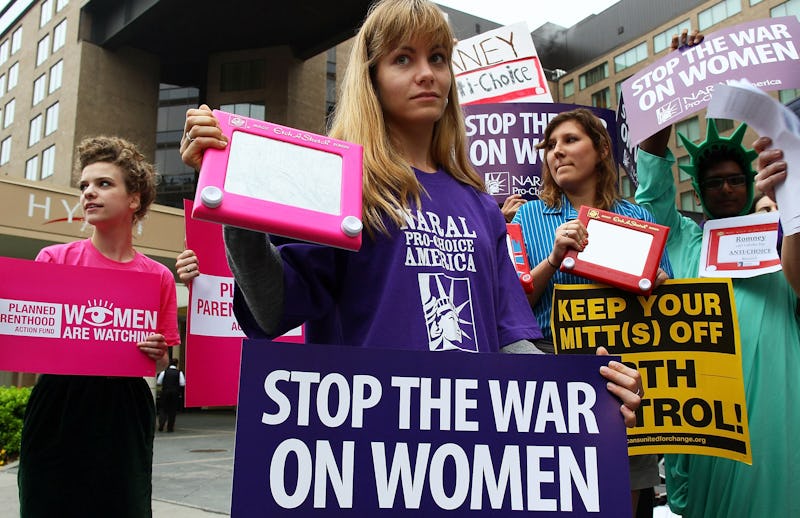 Mark Wilson/Getty Images News/Getty Images
Feeling an all too familiar uneasiness this week? Me too — and it's exactly like the stressful AF one I felt in early November. But I bet I'm not the only one with Inauguration Day stress. An October 2016 American Psychological Association survey found that 52 percent of Americans (and 56 Millennials) experienced 2016 election anxiety — and this was a month before we knew Donald Trump would win the presidential election. Can you imagine how much higher these numbers probably are now?
Since Donald Trump became president-elect, we've seen hate crimes rise, the country divided, women rush to their doctors in a panic, and Americans freaking out over the fate of their healthcare. And we've also seen our reproductive rights threatened.
Not only will our rights be affected once Obamacare is repealed by a man who once said women who have abortions should be "punished", a few weeks ago, House Speaker Paul Ryan said that the GOP plans to defund Planned Parenthood under Trump's presidency. What does that mean exactly? According to Planned Parenthood: "'Defunding' Planned Parenthood is part of a larger agenda to shut down Planned Parenthood health centers and make it impossible to access safe, legal abortion in America." Ugh.
"So many aspects of [an Obamacare repeal] are so frightening, and horrifying, and potentially detrimental to women," Dr. Lauren Streicher M.D., Associate Clinical Professor Of Obstetrics And Gynecology Feinberg School Of Medicine At Northwestern University and author of The Essential Guide to Hysterectomy, tells Bustle. "Most of young women's healthcare needs in their twenties involve contraception, STI screenings, and well-woman care, and we have a double whammy of not only losing congress, but with Planned Parenthood likely to become defunded, these women are going to be left with very few options — and certainly very few affordable options. Don't forget that women rely on their insurance and Planned Parenthood for STI screening and for cancer screening, like pap tests. It is no small thing to no longer have those things be accessible to millions of women."
With January 20, 2017 here, there's no better time to defend women's rights and the 2.5 million patients per year who could lose access to care at Planned Parenthood health centers. And luckily, there are so many ways you can lend your support — and a lot of them are things you probably were going to do anyway, like get a drink with a friend or pick up your phone to tweet. Here's how to put your Inauguration Day stress to good use and support Planned Parenthood.