Women's Equality Day Memes & Tweets To Empower Your Timeline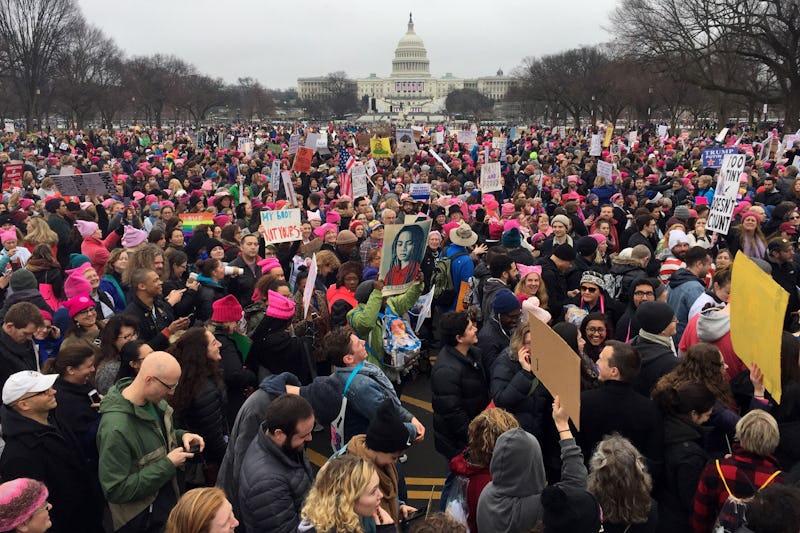 ANDREW CABALLERO-REYNOLDS/AFP/Getty Images
August 26th is Women's Equality Day, and though ideally we wouldn't need to commemorate something as straightforward as women's equality, given that women are still far from equal, our president isn't interested in engaging on any of the topics, and we already have national days for like, donuts and prosecco, it seems worth celebrating, whether it be with marches, petitions, and, to jazz up your timeline, Women's Equality Day memes and tweets.
Women's Equality Day commemorates the passage of the 19th amendment, which granted women the right to vote. Though the amendment was adopted in 1920, after decades of fighting by suffragettes like Susan B. Anthony and Ida B. Wells, it wasn't until 1971, when New York congresswoman Bella Absurg called for August 26th to be Women's Equality Day, that the event was celebrated nationally.
The day is both a recognition of how far we come, and how far we have yet to go. Hillary Clinton was the first female presidential candidate of a major political party, but Donald Trump, a man who bragged about grabbing women "by the p*ssy," is in the office. Feminism has become an important part of our national dialogue, but it is largely a white feminism, one that often ignores the unique challenges faced by women who are not white, straight, or cis-gendered.
So whether you're marching, or running errands, or celebrating Macaulay Culkin's birth (look it up), take some time on August 26th to think about the people who have fought to get us to where we are today, and those who continue to fight for a better tomorrow.
Here are some Women's Equality tweets and memes to inspire you, challenge you, and remind everyone how far we have left to go.