11 World Cup-Inspired Outfits For Your Wardrobe Because Yes, Football Is Coming Home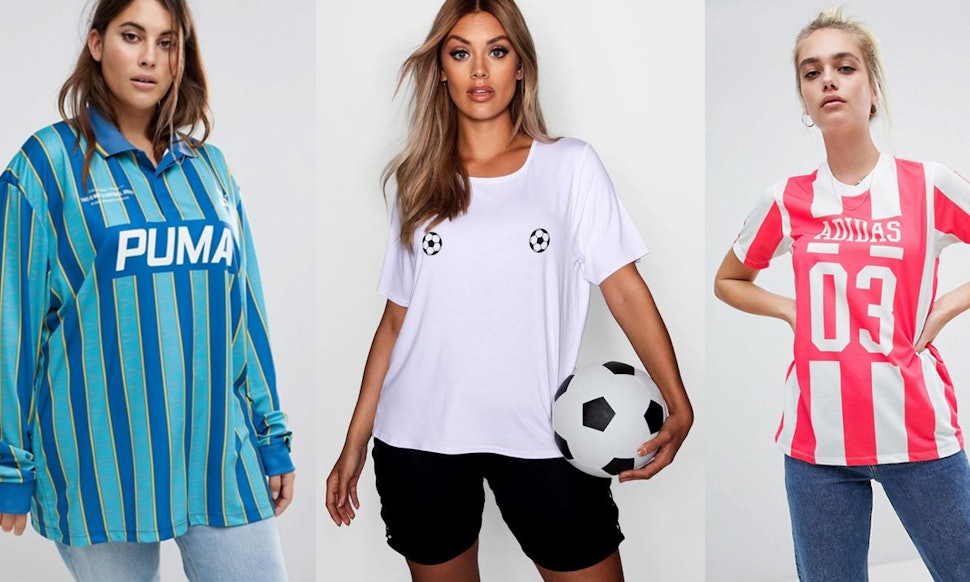 ASOS, Boohoo
I'm going to let you into a little secret: It's coming home. You may have heard enough of that particular saying over the past few days but the nation has well and truly gone football mad. If you want to show your support for England's semi-final (and hopefully final) match, you can do via this handy selection of World Cup fashion.
Now, it's pretty common to think that football and fashion don't go together. But I'm here to tell you that you're wrong. Global fashion search engine Lyst has seen a huge rise in the number of women searching for football-related clothes. Although it's obvious that more people will be searching for football everything in a World Cup year, it's surprising to see that women's searches increased by 210 percent from May to June this year.
It may be down to the fact that plenty of brands have designed unique football-inspired clothes over the past few months. While Versace has taken over the high-end market, the likes of ASOS, Boohoo, and adidas have released several more affordable styles.
You don't have to support a particular team. There are dresses and tees that pledge allegiance to no one, giving you the chance to get into the World Cup spirit without sacrificing your usual style. Just take a look at some of the options on offer. And don't forget to take advantage of next day delivery to ensure you have your new sporty wardrobe ready in time.
1

Support Your Country
ASOS
If you want to show some overt support for England, you can't do any better than Nike's simple T-shirt.
2

A Jersey To Remember
ASOS
Puma's stripy blue jersey can be used for any World Cup. And it comes in plus sizes up to XXXL. (Check ASOS' size guide for further measurement details.)
3

A Humorous Tee
Topshop
Football may be no laughing matter to a lot of people but it's always good to lighten things up every once in a while.
4

Go Yellow
ASOS
Yellow is a tricky colour to wear but that doesn't mean you should shy away. Converse's simple design features the traditional player number on the back and also comes in blue if you're not feeling quite brave enough.
5

The Bikini
PrettyLittleThing
You might be on holiday or just sunbathing in your back garden. Whatever you're doing, there's no reason you can't do in style.
6

Get Colourful
ASOS
If pink's your favourite colour, you're in luck. This adidas tee offers stripes that'll get you noticed miles away.
7

The Ultimate Fashion Tee
Yoox
This tee may look like it has nothing to do with football but it is in fact part of Yoox's Soccer Couture campaign. Several designers from around the world were asked to create a T-shirt for their country with a percentage of the proceeds going towards the Stars for Children charity. Dame Viv's doesn't have a ball in sight. Instead, it's all about punk and is guaranteed to impress your mates down the pub.
8

A Crop Top
Boohoo
The entire nation is currently sweating one out. So you might want to invest in this crop top so you can watch the match without feeling like you're going to pass out.
9

The Traditional V-Neck
JD Sports
Football jerseys are usually designed with a V-neck. Why break tradition? This mellow yellow adidas tee can be tied up, left down, or styled any way you want it.
10

The Simplest Tee Of All
Boohoo
Some of us prefer to stick to a monochrome wardrobe. And that's OK because Boohoo has designed a simple white tee with two artfully-placed footballs on the front.
11

A Summer Dress
PrettyLittleThing
Baby pink is an ideal colour for summer. Therefore, this is an ideal outfit for summer match-watching.
It appears football and fashion do make a perfect match. After all, who knew that you'd be able to find 12 football-inspired designs that aren't, for lack of a better word, ugly?
Oh, and one more thing. *whispers* It's coming home.