12 Communication Mistakes To Avoid If You Want To Stay Connected To Your Partner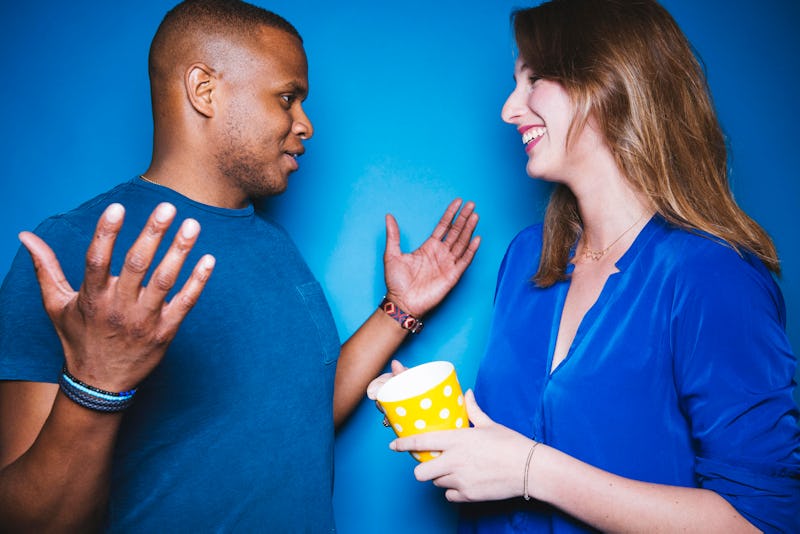 BDG Media, Inc.
Trying to communicate effectively with your partner is a noble cause. Still, many couples end up having avoidable relationship problems even when their hearts are in the right place. These communication mistakes in relationships are easy to fall into, and can destroy your connection with your partner if you aren't careful. Luckily, relationship experts have learned to identify them.
Of all the issues you may have in a relationship, messing up communication is one of the most serious. "When you can't communicate with your partner, you are opening the door to misunderstandings and creating distance," board-certified psychiatrist and dating and relationship coach Dr. Susan Edelman tells Bustle. "When you can express yourself to your partner in a constructive way, it often brings you closer together. You're not likely to feel understood if you can't tell your partner how you feel." But if these problems start to get in the way, they can really break your connection down.
"Relationship mistakes are common with couples and aren't necessarily fatal, but chronic problems communicating can take a serious toll on your relationship," Dr. Edelman says. In a long-term relationship, communication will never not be something you have to deal with. "A relationship by its very nature is about communication, because it involves two people trying to go through life united socially, and in many cases, financially and legally," David Bennett, certified counselor and relationship expert with Double Trust Dating, tells Bustle. "For this to work at any level, good communication is essential." So it's best not to let these problems get in your way.
Here are 12 communication mistakes that can break down the connection in your relationship, according to experts.