12 DCOMS To Rewatch This Halloween For Maximum Spooky Nostalgia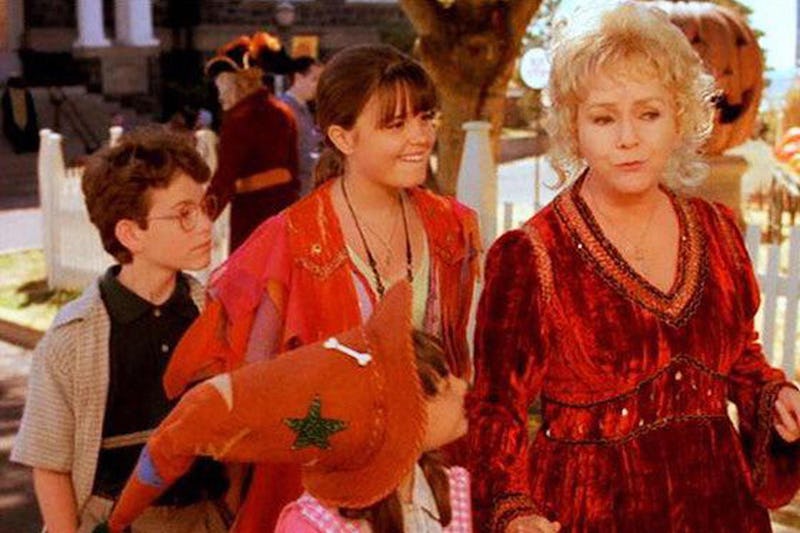 Disney-ABC Domestic Television
It's pretty fair to say that if you're a millennial, at some point of your adolescence you were a stan for everything Disney. And if you're a mid-to-late '80s or early '90s baby, chances are that the Disney Channel was your go to place for really good original movies. Films like Halloweentown, Mom's Got a Date With a Vampire, and The Scream Team were annual reminders that fall fun was around the corner, though there is hardly ever a bad time to go watch one of their classics. The holidays are a particularly good time for these timeless TV movies, however, if you want to get into the spirit. The DCOMs you should rewatch this Halloween season are funny, nostalgic, and even a little bit scary.
Disney Channel Original Movies are definite proof that TV movies don't have to be quirky or lame. Don't Look Under the Bed pushed the envelope for Disney Channel viewers, and it was definitely one of the spookier ones. Take this with a grain of salt, but an IMDB piece of trivia alleges that Don't Look Under the Bed was actually the subject of some parental complaints about it being too scary.
So, while it's absolutely true that some of these movies won't have you running around turning on the lights now, there's no doubt these unforgettable Halloween hits will remind you of your childhood.
1. Under Wraps
Three 12 year-olds find an undiscovered mummy that's 3,000 years-old and accidentally revive him back to life. Now, the mummy wants to find his long lost love before it's a little to late.
2. Halloweentown
The classic Halloweentown movie is a definite must for any Disney Halloween list (as are all of its sequels). In the film, the Piper family finds out through a visit to their grandma's home that they come from a family of witches. After they discover the truth about their origins, all the magic starts to break loose.
3. Halloweentown II: Kalabar's Revenge
In this sequel to Halloweentown, an angry warlock has stolen a magic spell book and plans to turn everyone into whatever their Halloween costume is permanently at midnight.
4. Can Of Worms
Have you ever felt like leaving planet Earth to be by yourself? Well a dissatisfied teen sends a plea to outer-space to escape his life and some not-so-friendly aliens answer his call.
5. Don't Look Under The Bed
The movie follows Frances Bacon McCausland as she tries to find the culprit of various pranks in her hometown. She teams up with a young man named Larry — who is actually invisible — and tries to redeem her reputation. They soon find out that the boogeyman is causing all the trouble around town. The scariest part for me was always seeing Larry turn into a terrifying monster with clawed teeth.
6. Mom's Got A Date With A Vampire
You remember how bummed out you used to get when you were grounded. Well, the Hansen kids they think that they're getting a break from their punishment when their mom goes out on a date with a new, handsome guy. But, things totally go left when they suspect he is a bloodsucking vampire.
7. The Scream Team
A brother-sister duo find out that their hometown is a halfway house for restless ghosts who cannot enter heaven until they resolve unfinished business on Earth.
8. Phantom Of The Megaplex
A lot of things can go down at a neighborhood theatre that everyone seems to find sketchy, especially if you just started working there. For Pete Riley, working at the theatre during the premiere of a major motion picture is gold, until everything goes South.
9. Halloweentown High
Marnie tries to unite the mortal school and Halloweentown high by doing a student exchange program. Things get interesting when the first students to cross over are a witch, a warlock, a troll, and an ogre.
10. Twitches
Can you imagine finding out not only that you have a twin, but that you both have magical powers? Twitches is literally Sister, Sister, all over again — but this time around the Mowry sisters play teen witches.
11. Return To Halloweentown
Marnie just can't get enough of Halloweentown. In this last installment of the Halloweentown movies, Marnie (now played by Sara Paxton) has dreams that her mother just can't understand. That's why she enrolls in a witch university in her favorite spooky town.
12. Girl Vs. Monster
A young girl finds out about her monster-hunting roots just as a group of monsters is out to stop her from coming into her own.
Taking a look back at these Disney Channel Original Movies will have you nostalgic for Halloweens gone by. Fortunately, they'll always be around for a rewatch.